As the heart of the home, most of our kitchens are a hive of activity, with all sorts of delicious dinners and sumptuous snacks on the go. Because of this, it means it's an area where only the highest hygiene standards will do.
Below, you'll find an in-depth list on how to keep your kitchen surfaces clean, regardless of the material they're made from.
Counters
Your worktops will get the most use, which is why knowing how to keep them clean is key to kitchen hygiene.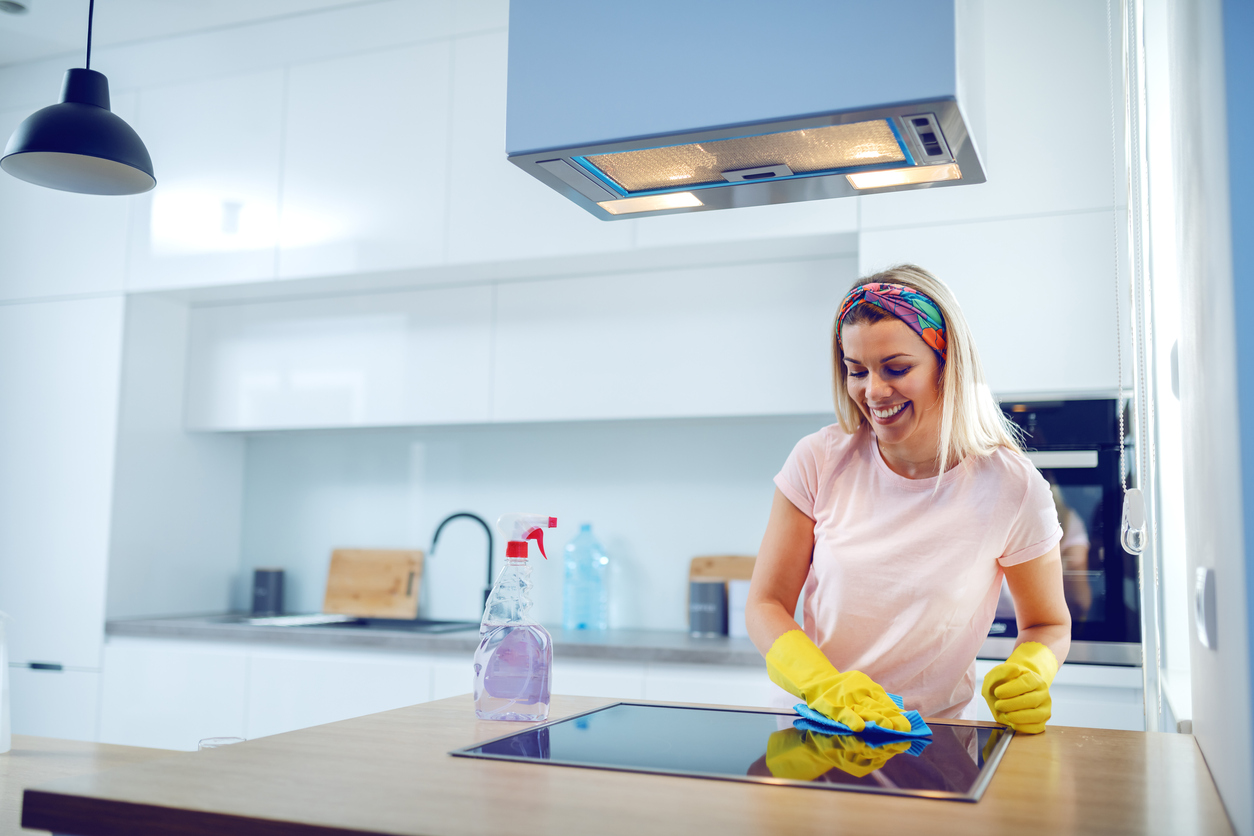 However, with so many different varieties, knowing how to best clean yours is key, which we've highlighted below.
Granite – easy to clean, a simple kitchen detergent and warm water will keep granite surfaces sparkling. Avoid acidic cleaners.
Quartz – another easy surface, soap and water will work on these surfaces.
Ceramic – a damp cloth with warm water should be all you need here. However, for trickier spots, you can use a mildly acidic detergent but should avoid anything containing bleach.
Glass – warm water or a glass cleaning product will help to lift stains and keep these surfaces clean and shiny.
Corian – a strong surface, a damp cloth will usually do the trick. However, a cleaning spray and scouring pad or regular degreaser can be used if needed. Make sure you rinse and dry Corian surfaces after cleaning.
Wood – warm water and washing up liquid will keep these clean. Ensure you use a damp cloth and not a wet one as it can saturate the wood.
Laminate – a mild detergent, alongside a nylon brush, is all you need when cleaning a laminate worktop.
Stainless steel – a soft sponge coupled with warm water will ensure these surfaces are cleaned while helping to avoid scuffs and scratches.
Sink

Responsible for keeping everything in your kitchen sparkling once used, you need to remember that your sink needs to be cleaned too. The easiest way to do this is to let the water out as soon as you've finished the dishes and wipe it down.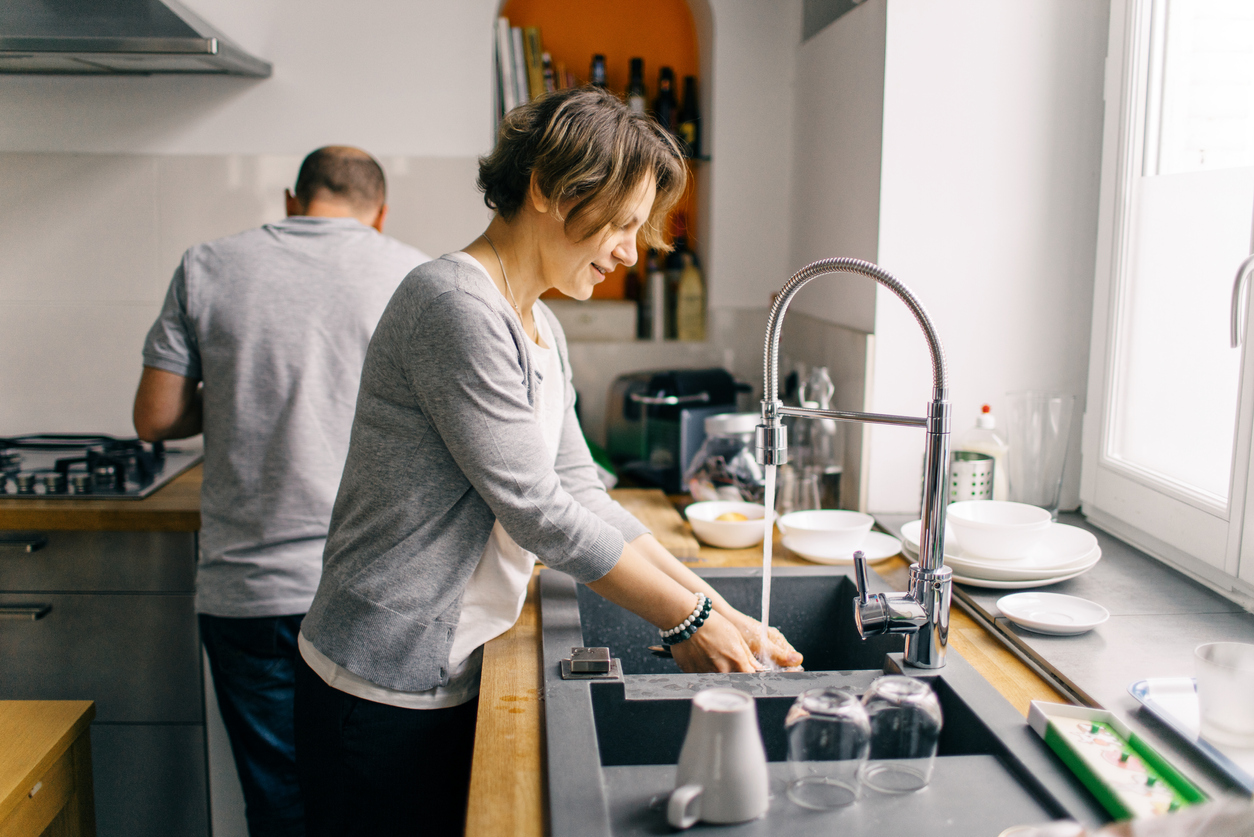 Much like your worktops, there are different sink styles available. This means there are different ways to clean them. These are:
Ceramic sinks – a mildly abrasive cleaner or anti-bacterial spray is ideal, while those who want a weekly deep clean can fill the sink with cold water and a cup of bleach, before leaving to soak for a few hours.
Coloured sinks – antibacterial sprays or washing up liquid and a damp cloth will keep these sinks shining. If tea, coffee or fruit juices have left marks, clean them asap or they'll stain, while diluted bleach or washing powder will help lift stubborn stains.
Composite – a damp cloth and washing up liquid will work here, while bicarb and a scouring pad should tackle tough marks.
Stainless steel – again, a damp cloth with washing up liquid or an anti-bacterial spray should do the job. Ensure you use a cream cleanser once a week too and limescale removers when needed.
Enamel – you can clean enamel sinks in the same way as stainless-steel ones. However, don't use a limescale remover. Instead, opt for neat washing up liquid and a plastic sourer.
If you use a bowl in your sink, make sure you wash this after washing the dishes using a cloth, warm water and washing up liquid.
Floor
When you're wiping down the kitchen surfaces, you won't catch everything, which means there's only one place it can end up – the floor.
With dust, crumbs and other matter collecting on your kitchen floor, you must sweep or vacuum the floor regularly. It's usually best to sweep, remove the dirt you've collected and then follow this up by vacuuming.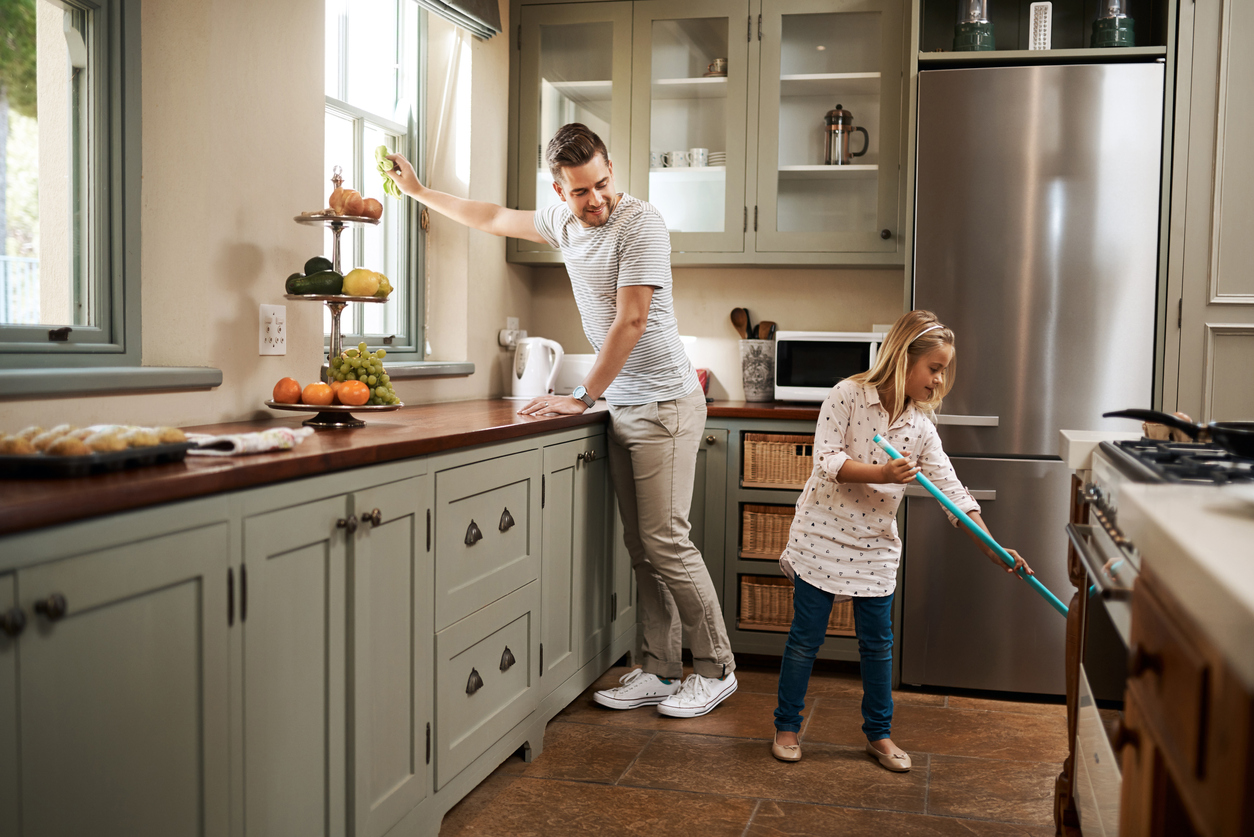 On top of this, to ensure your kitchen floor is extra clean, you should mop the floor at least once a week. A simple mixture of hot water and an everyday floor cleaner will do the job, helping to remove dirt, spills, and sticky spots while keeping the floor shiny.
Extractor fan
The extractor fan is a godsend when cooking, but it's often forgotten about when it comes to cleaning. Therefore, many households will find that their extra fan is filled with grease and grime.
However, this can be avoided by taking the time to clean it at least once a week using the following steps:
Unplug the extractor fan and remove the outer cover and wash it in warm, soapy water. If you can't remove it, you can use a sponge with warm, soapy water.
Dry with kitchen towel.
Wipe the blades with a damp cloth using warm, soapy water. Don't get these too wet and ensure they're completely dry before replacing the cover.
Do the same as above with filters if your fan has them. If you have sponge filters, these will need replacing after you've washed them a few times.
Oven
Because you don't find yourself looking in the oven until you're placing food inside, you can see why it can often become forgotten.
And, it can often feel like a huge chore to get on your hands and knees to scrub the oven for a few hours. However, Oven Pride can help reduce this time while keeping your oven as shiny as the day you first opened it. Just put your racks inside the plastic bag provided and add the 2 in 1 cleaning solution, pouring the remaining solution inside the oven.
Once you've done this, leave the solution to get to work for 24 hours before putting on the provided gloves and rinsing them with hot, soapy water.
Keeping on top of the kitchen shouldn't be a huge task, and we hope this article has inspired you when it comes to cleaning yours. Looking for further cleaning tips and recipe ideas? Check out the new Oven Pride blog or visit our homepage to learn more about our unique oven-cleaning formula.