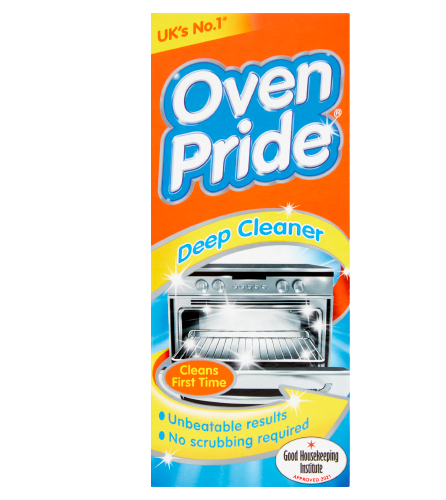 What is Oven Pride?
Oven Pride is a single-use, all-in-one oven cleaner that will change the way you tackle everyone's least favourite chore. Our powerful oven cleaning system transforms racks and grills as well as the inside of the oven – leaving it sparkling clean and free from bad odours, with unbeatable results each and every time.
Oven Pride is designed to offer a complete solution for cleaning your oven. The product features a unique bag and powerful, fume-free oven cleaner, delivering a deep cleaning action for unbeatable results. With minimal effort, you can transform even the dirtiest racks, grills and internal oven surfaces, to leave your oven gleaming. It's also perfect for use on the BBQ grills, too!
Using Oven Pride to tackle your oven couldn't be easier, with a simple 4-step process that eliminates scrubbing while ensuring the best possible results. In fact, Oven Pride is such an effective way to clean your oven, we've received several industry accolades, including the Which? Best Buy and Loved by Parents awards.
No mess, no fuss – Oven Pride gets to work right out of the box, ridding your oven of grease, stains and lingering odours. Thanks to our powerful, all-in-one cleaning system, cleaning your oven no longer has to be a huge chore, and for minimal effort, you'll be rewarded with a beautifully clean and sparkling oven.
Approved by the Good Housekeeping Institute
Being approved by the GHI involves rigorous testing carried out by the Good Housekeeping experts. Only those products that pass the consumer Quality Assessment test can have access to the endorsement. Wherever you see the Good Housekeeping Approved logo you can be assured that this product has passed Consumer Quality Assessment tests carried out by the Good Housekeeping Institute.

How often should I clean my oven?
On average, people tend to deep-clean their ovens 3-4 times a year, with a top-up clean every 3 weeks to combat day-to-day stains, spills and bad odours. This is only a rough figure, though, and it really depends on how often you use your oven, what type of food you like to cook, and how much dirt and grease it accumulates.
If food has spilt or leaked inside the oven and is left inside, it can become burnt on to the oven floor and walls, which can cause smoking, bad odours and become difficult to remove. Leaving burnt-on mess inside your oven can also make it less efficient and, as well as being unhygienic, can impact the taste of your food.
It's also not a pleasant experience when you're entertaining friends and family, and they see that you're cooking food in a dirty, smelly oven!
While the frequency with which you clean your oven may vary, it's best to clean your oven as often as possible to make sure it stays hygienic, efficient and spotlessly clean.

What Does Oven Pride Include?
Oven Pride is an all-in-one oven cleaning system which includes:
1 x bag (for cleaning racks and grills)

1 x 500ml bottle of Oven Pride Deep Cleaner

1 x set of gloves

1 x instruction leaflet
DON'T FORGET! Read all instructions and safety information before use. Do not use if damaged in any way.