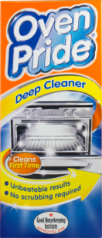 What is it?
Oven Pride is a single usage all-in-one deep cleaning system from the UK's No.1 oven cleaning brand. It  transforms racks and grills as well as the inside of the oven, leaving it sparkling clean with amazing results each and every time.
The unique bag and powerful, fume-free all-in-one solution has been designed to give you unbeatable results. With minimum effort  you can transform even the dirtiest racks, grills and oven surfaces  to leave your oven gleaming. It's also perfect for use on the BBQ grills too!
The simple 4 step process is easy to follow and means that no scrubbing is required which is why we've previously been approved by Good Housekeeping Insititute and awarded Which? Best Buy, and Loved by Parents awards.
Whilst your oven will be out of action during the cleaning process, by using Oven Pride the amount of time you will actually spend cleaning will be kept to a minimum due to the powerful formulation and you will be rewarded with a beautifully clean sparkling oven.  

How often should I clean my oven?
On average people tend to deep clean their ovens 3-4 times a year with a top up clean every 3 weeks but it really depends on how often you use your oven, what dishes you're cooking  and how much dirt and grease accumulates.
If food has spilt or spit inside the oven and is left inside it can become burnt on to the oven floor and walls which can cause smoking. This smell may not just stay in your kitchen but can also spread into other rooms. Leaving burnt on mess inside the oven can also make the oven less efficient and, as well as being unhygenic, can impact the taste of your food.
It's also not a pleasant experience when you're entertaining friends and family for them to see that you're cooking them food in a dirty, smelly oven!
Whilst the frequency with which you clean your oven may vary from person to person it's best to clean your oven as often as possible to make sure it is hygenic and to ensure the efficiency and effectiveness of your oven as well as great tasting dishes.

What Does the Pack Include?
Oven Pride is an all-in-one oven cleaning system providing you with:
1 x bag (for cleaning racks and grills)

1 x 500ml bottle of Oven Pride Deep Cleaner

1 x set of gloves

1 x instruction leaflet
DON'T FORGET! Read all instructions and safety information before use. Do not use if damaged in any way.
Hob Pride
Hob Pride is a brand new product to clean your hobs. Brought to you by Oven Pride the UK⁹s Number 1 Oven Cleaning Experts.
Hob Pride has been specifically designed for ceramic surfaces. Its delicate care system provides deep cleaning and mild abrasive action to remove tough burnt on kitchen soils.
With great results on electric, ceramic, halogen and induction hobs, Hob Pride will deliver a sparkling finish that will amaze you every time.