Picture the scene: it's a miserable Wednesday night, your fridge is bare and you're having your usual internal debate between cooking something that's either a. healthy, b. simple or c. tasty. Good news, you no longer have to choose! We've compiled a list of delicious, nutritious recipes that all have, wait for it, five ingredients or fewer.
Click the healthy recipe you fancy:
Veggie chilli
Chicken noodle stir fry
Blackened salmon fajitas
Risotto with bacon and peas
Sausage casserole
Fruity flapjacks
Frozen banoffee cheesecake
THE HUMBLE VEGGIE CHILLI
Name a person who doesn't love chilli. We'll wait… no? We thought as much! This recipe is every bit as delicious as those complex versions that include dark chocolate, red wine and <insert obscure Mexican herb here> but without the fuss. Whether you have a side salad or a hearty helping of nachos and guacamole as an accompaniment is entirely up to you.
Ingredients:
– 400g oven-roasted vegetables
– 1 can kidney beans in chilli sauce
– 1 can chopped tomatoes
– 1 microwaveable mixed grain pouch
Method:
Heat oven to 200C/ gas 6.
Roast the veg on a baking tray according to packet instructions (usually around 15 mins).
Add in the tomatoes and the kidney beans in their juices.
Season with salt, pepper and any herbs you like and cook for another 10-15 mins until piping hot.
Microwave the grain pouch according to instructions and serve alongside the chilli.
CHICKEN NOODLE STIR FRY
Okay, so you may already know that chicken stir fry is easy and healthy, it's probably already a mid-week staple but this version really packs a punch in terms of flavour, too.
Ingredients:
– 2 x skinless chicken breasts
– 2tbsp black bean sauce
– 30g unsalted peanuts
– 150g medium free-range egg noodles
– 200g tender stem broccoli
Method:
Toast the peanuts in a large non-stick pan and set aside.
Slice the chicken into bitesize pieces and place in a bowl with black bean sauce and a tbsp of olive oil.
Once coated, sear the chicken for three minutes or until cooked through (don't clear away pan)
Cook the noodles according to packet instructions
Two minutes before the noodles are done, add broccoli and cook for two mins.
Add noodles and broccoli to the chicken pan to soak up the remaining sauce.
Serve noodles with chicken on top and scatter over peanuts.
BLACKENED SALMON FAJITAS
Salmon is low in saturated fat, low in calories and packed full of omega-3s and protein. What's not to love? Plus, these mouth-watering fajitas are a deliciously tasty, quick fix that will even keep the kids happy.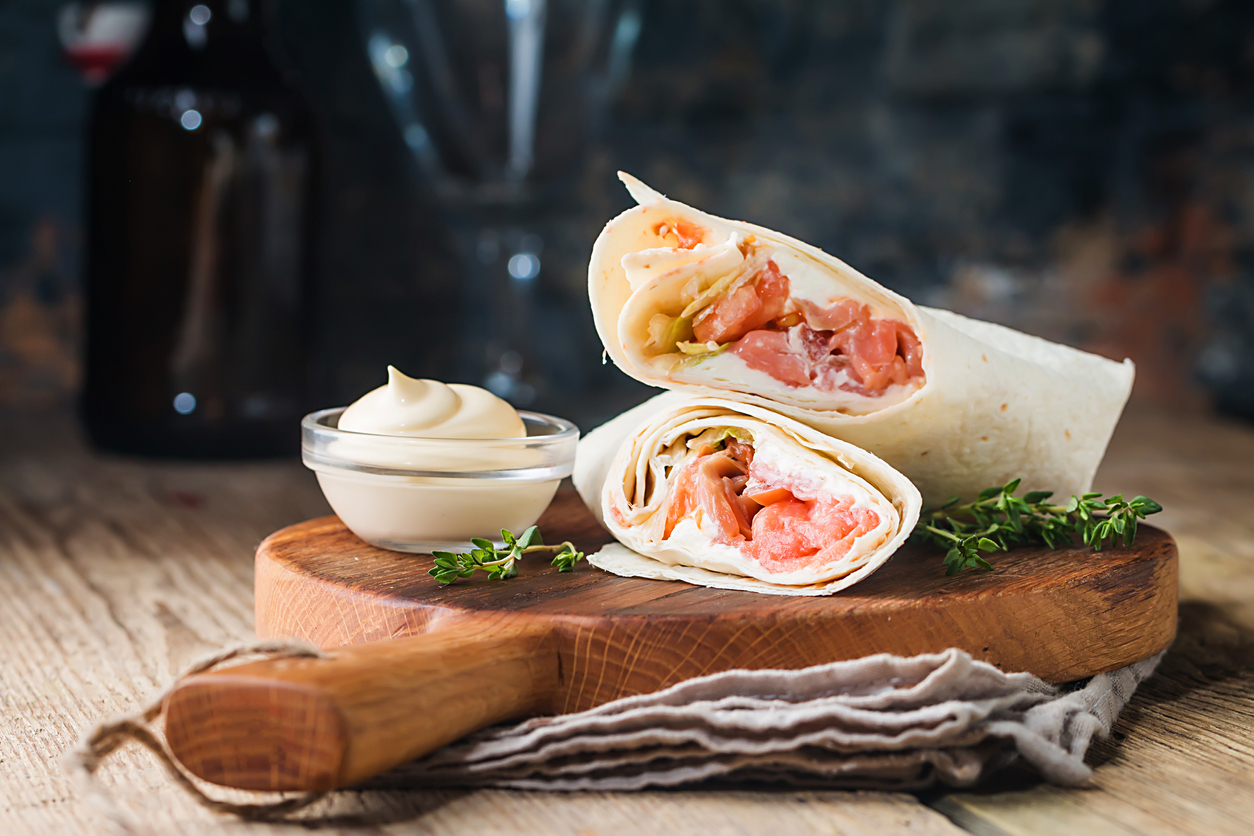 Ingredients:
– 4 x Salmon fillets
– Olive oil
– 1 x Fajita kit
– 2 x avocados
– 2 x limes
Method:
Rub the salmon with 1 tbsp oil and then coat with the fajita spice mix.
Fry for 8 mins until salmon is blackened.
Add the juice of one lime to the avocados and mash with a fork.
Serve the salmon in large flakes with the salsa and the other lime to add even more flavour.
RISOTTO WITH BACON AND PEAS
Think Risotto is too time-consuming to knock up on an average workday? Then think again. This easy, peasy recipe is packed full of flavour and shaves so much time and effort off a more standard risotto recipe.
Ingredients:
– 1 x onion
– 6 x rashers of streaky bacon
– 300g risotto rice
– 1 x litre hot vegetable stock
– 100g frozen peas
Method: 
Finely chop your onion and fry on a low heat until lightly browned (about 7 minutes).
Roughly chop your bacon and add to the pan for a further 5 minutes or until crispy.
Add in the risotto rice and your litre of hot veggie stock and bring to the boil. Stir and then reduce heat and cover for 15-20 minutes or until rice is almost tender.
Stir in peas, season to taste and cook for a further 3 minutes.
SIMPLE SAUSAGE CASSEROLE
Very few dishes get the whole family more excited for dinnertime than sausage casserole. This simple recipe is jam-packed with flavour and contains only five ingredients and will barely even add to the washing up pile.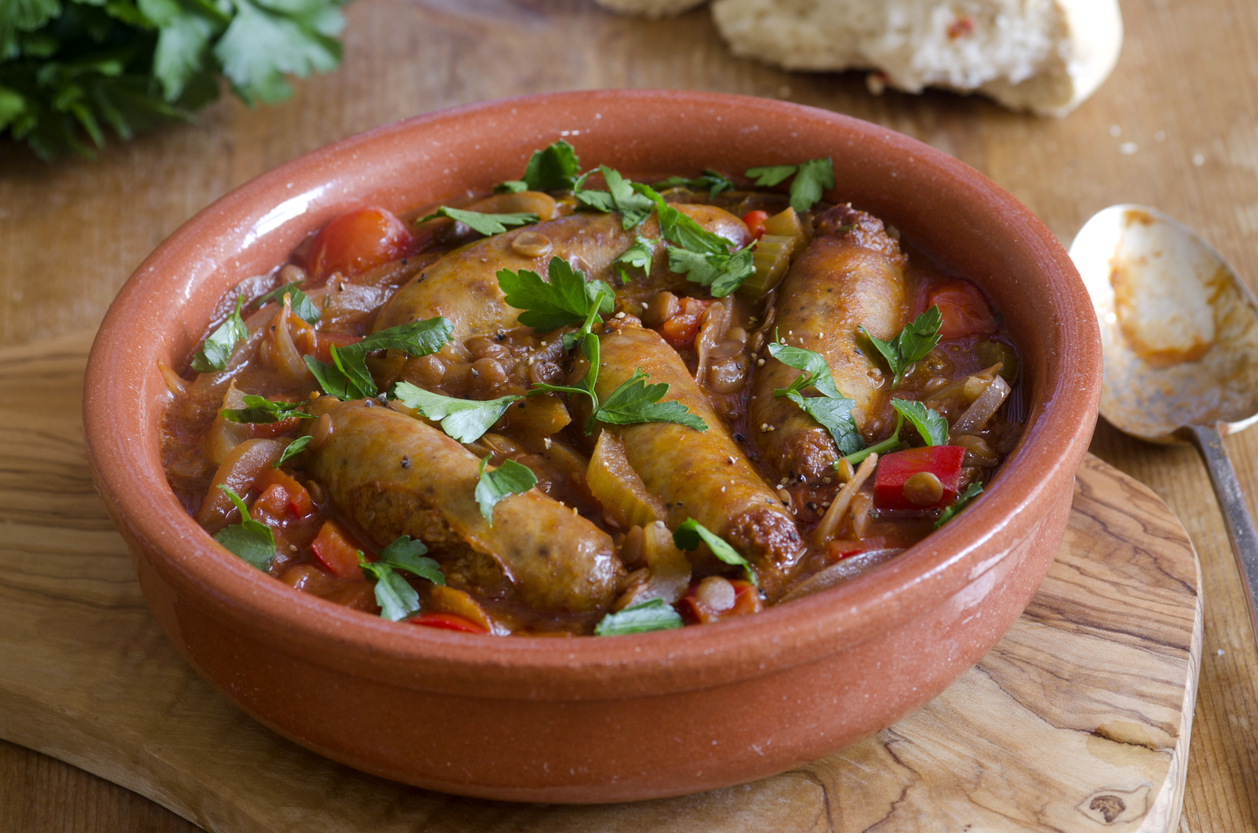 Ingredients:
– 12 x chipolata sausages
– 600g ripe mixed-colour cherry tomatoes
– 4 cloves of garlic
– 200g focaccia
– 1 x 660g jar of white beans
Method:
Preheat the oven to 180ºC/gas 4.
Peel and slice the garlic. Halve cherry tomatoes and tear the focaccia into chunks.
Pop it all in a roasting tray and pour over the beans in their juice, a splash of water and mix it all together.
Twist the chipolatas in halves and add into the mix.
Roast for 45 minutes.
And for dessert?
Yep, five-ingredient dishes don't have to be savoury. If you have something of a sweet tooth and want something simple, delicious and not altogether unhealthy then take a look at these:
FIVE-INGREDIENT FRUITY FLAPJACKS
These fruity flapjacks make a great dessert or work just as well as for school lunch boxes. Plus, they can be made in less than half an hour!
Ingredients:
– 100g mixed dried fruit & nuts
– 100g porridge oats
– 100g self-raising flour
– 100g low-fat butter
– 100g golden syrup
Method:
Preheat the oven to 180ºC/gas mark 4.
In a food blender, mix together the butter, fruit and nuts, oats and flour until it sticks together. Add the syrup and pulse until fully blended.
Transfer the mix to a lined baking tin and bake for 15-20mins or until golden.
Leave to cool in the tin for 5 minutes before using the paper to lift out and place on a wire cooling rack.
FROZEN BANOFFEE CHEESECAKE
Okay, calling this healthy may be pushing it a little, but dark chocolate is full of flavonoids and it's so delicious and easy to make that it deserved to be included.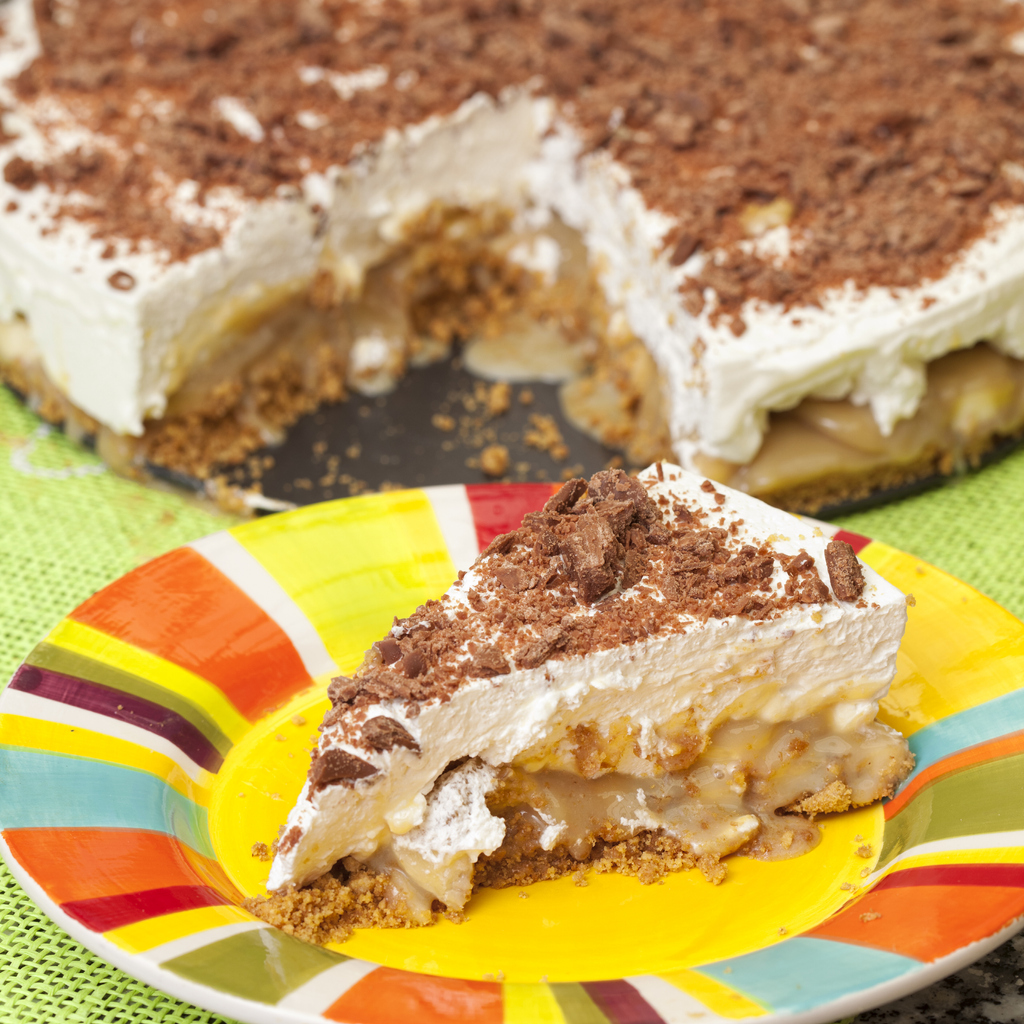 Ingredients:
– 150g dark chocolate
– 300g packet of light rich tea biscuits
– 8 overripe bananas
– 500g light cream cheese
– ½ x 450g jar of dulce de leche
Method:
Line a 20cm cake tin with greaseproof paper and rub the paper with oil
Melt 50g of chocolate in a heatproof bowl over a pan of gently simmering water, then set aside
Us a fork to mash rich tea biscuits with a dash of oil
Add in the melted chocolate and pulse together
Pat mixture into the cake tin and create a base about 1cm thick.
Add peeled bananas, cream cheese and dulce de leche and blitz in a food processor then pour over base and freeze before transferring to the fridge 2 hours before serving.
Grate over the remaining chocolate and serve.
So, there you have it, seven of the simplest, tastiest recipes that you're likely to find. Perfect for midweek meals and even weekend treats.
At Oven Pride, we've made it our mission to take the stress out of cleaning the oven, so you can enjoy endless fun and creation in the kitchen. For more information and kitchen cleaning advice, visit the homepage today.