When it comes to food debates, pizza toppings really are serious business. Whatever your favourite is, there's nothing that gets people (wood)fired up quite like what belongs on one of the best culinary creations to ever exist.
To try and settle what is clearly such a hot topic for many across the country, we investigated the issue further. After countless hours of research – and a fair share of taste tests just to be sure – we can now reveal the UK's favourite pizza toppings.
What did we do?
To find the UK's fave, Oven Pride collected Google data to inform our results. And because we're serious about this, we categorised this data into two distinct, but equally important, slices.
1. Pizza toppings and topping combinations
2. Pizza styles (such as Chicago-style and stone-baked)
Key pizza topping takeaways

In a shocking turn, the UK's favourite pizza topping combination is actually Margherita, with 22,200 average monthly searches.

With that said, there were still some surprising toppings that made their presence felt in the top 10. Stand up cauliflower and turkey, apparently you're a thing.

The classic Four Cheese pizza was outranked by yet more unusual pizza topping contenders in the form of egg, potato and even bean toppings.

Yet more controversy in the form of ever-notorious Hawaiian and Pineapple varieties coming in third and fourth place, respectively. Has this settled the infamous 'pineapple on pizza' debate?

Searches for 'vegan pizza' almost doubled from December 2020 to January 2021 – were people having a Veganuary detox post-Christmas?

Pineapple is the UK's number one vegan pizza topping. Clearly, another victory for Team Pineapple.
The UK's Top 10 Pizza Toppings
As this pizza pie chart shows, we Brits tend to be a bit basic when it comes to our favourite toppings, with our favourite being Margherita by some stretch. The classics never go out of style, of course, but plain old cheese and tomato beat out other icons like pepperoni and Hawaiian by a fair margin. Are people opting for such a straightforward selection because more and more people are becoming vegetarian? It could well be the case.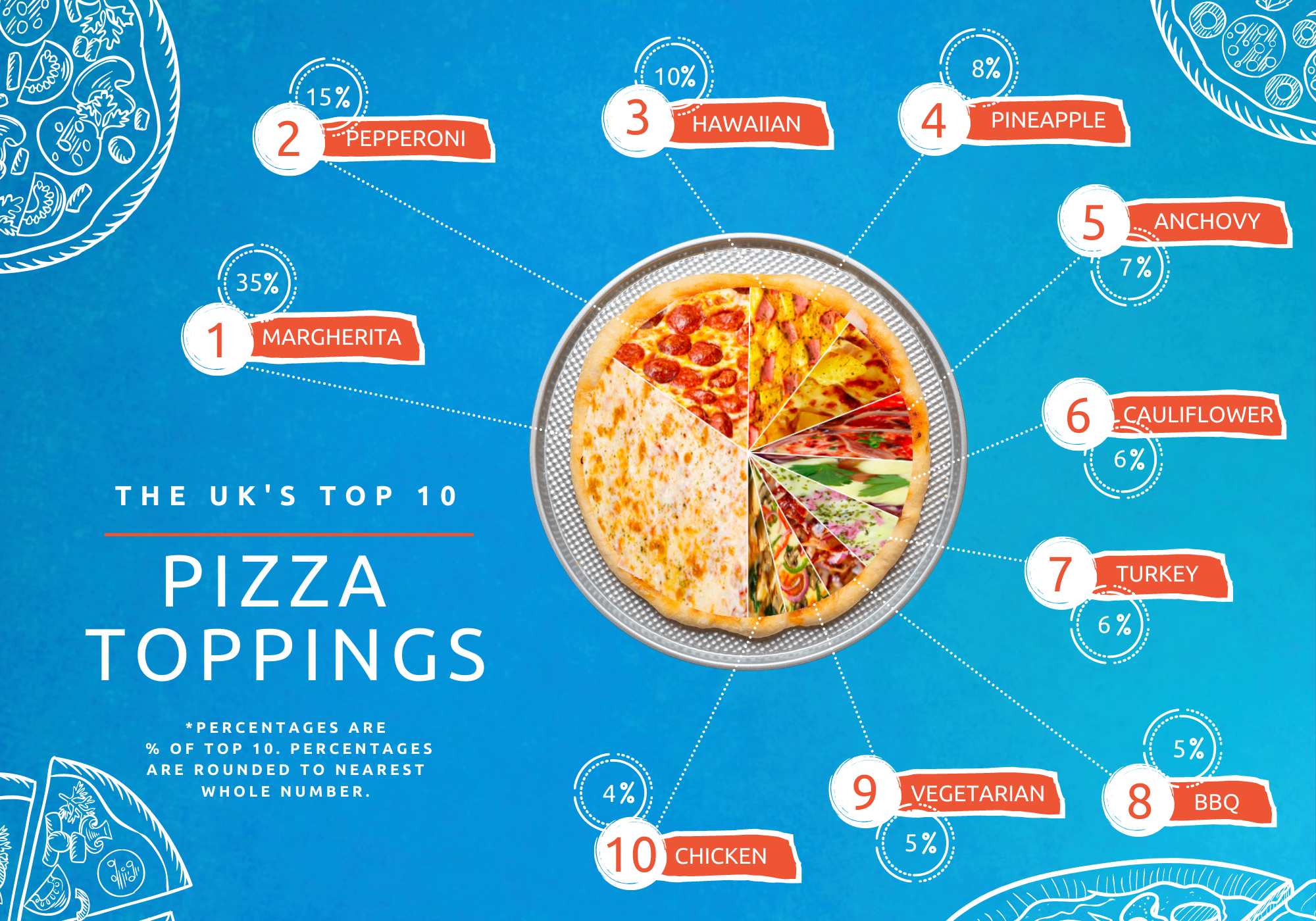 Speaking of Hawaiian, the controversial choice took the third spot, with its equally fruity brethren following behind. Of course, one of pizza toppings' most heated debates is "does pineapple belong on pizza?" and it seems like the results strongly suggest that it firmly has its place as a topping, and we're inclined to agree.
Let's not forget the appearance of turkey and cauliflower on there either. Turkey might not sound that unusual, but if you ask us, the bird should be saved for the festive period only.
Cauliflower is a whole other matter entirely, but we salute those willing to experiment when it comes to their pizza toppings.
The UK's Top 10 Vegan Pizza Toppings
It's no secret that veganism has been on the rise over the past few years. Plant-based options and mock meats are everywhere, so we had to put some shine on the vegans out there in our findings.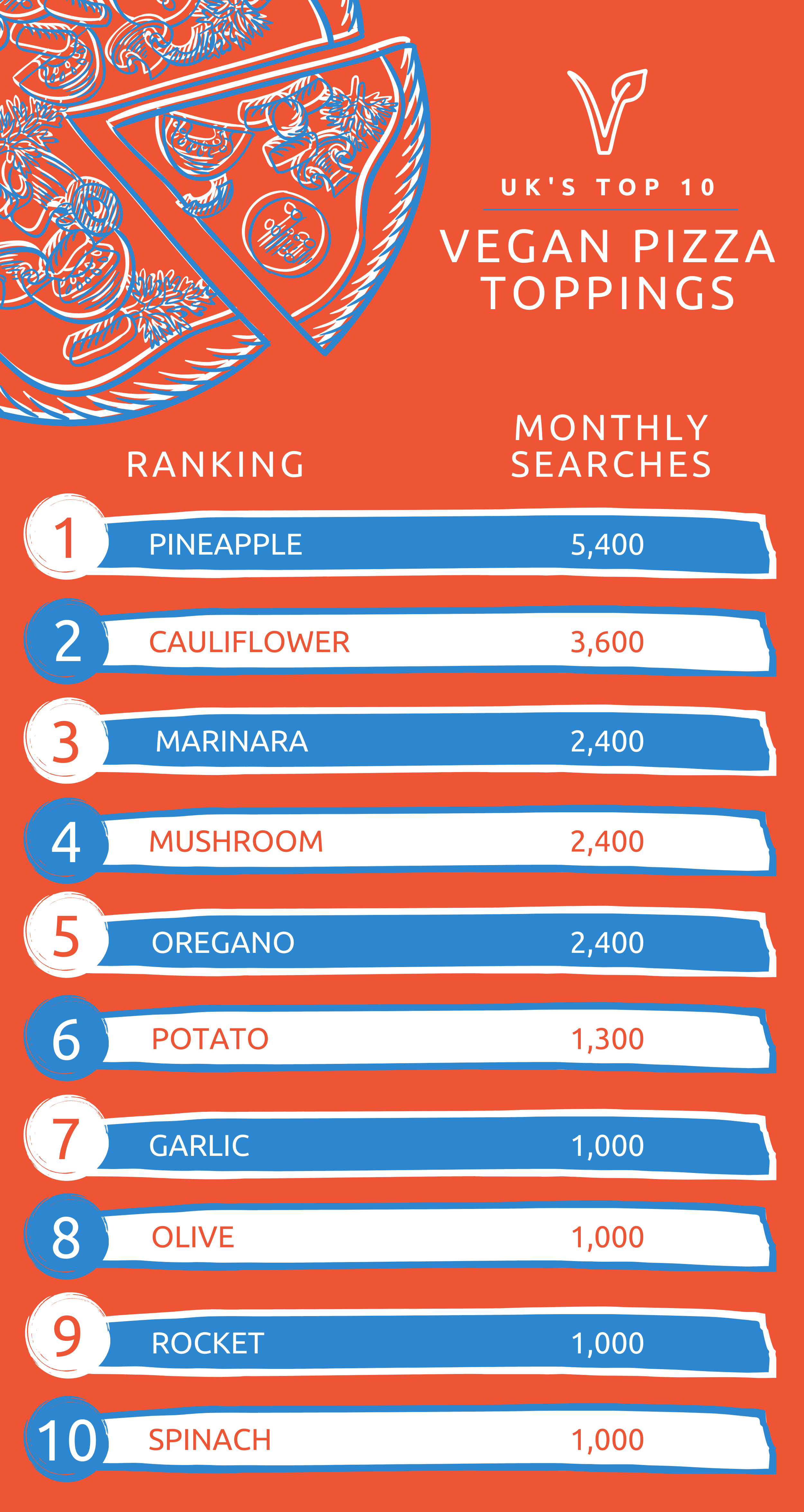 Again, pineapple had quite the showing in the results, taking the top spot with 1,800 more average monthly searches than second-place cauliflower. You'll hear no issue from us here, we're Team Pineapple all the way.
Another notable result: the number of searches for 'vegan pizza' almost doubled between December 2020 and January 2021. After a decadent festive period, perhaps people were turning to Veganuary just to get their fix of pizza? We reckon so.
UK's Top 10 Meat Pizza Toppings
No surprises here: pepperoni reigns supreme in terms of meaty toppings. But turkey above chicken? That strikes us as unusual.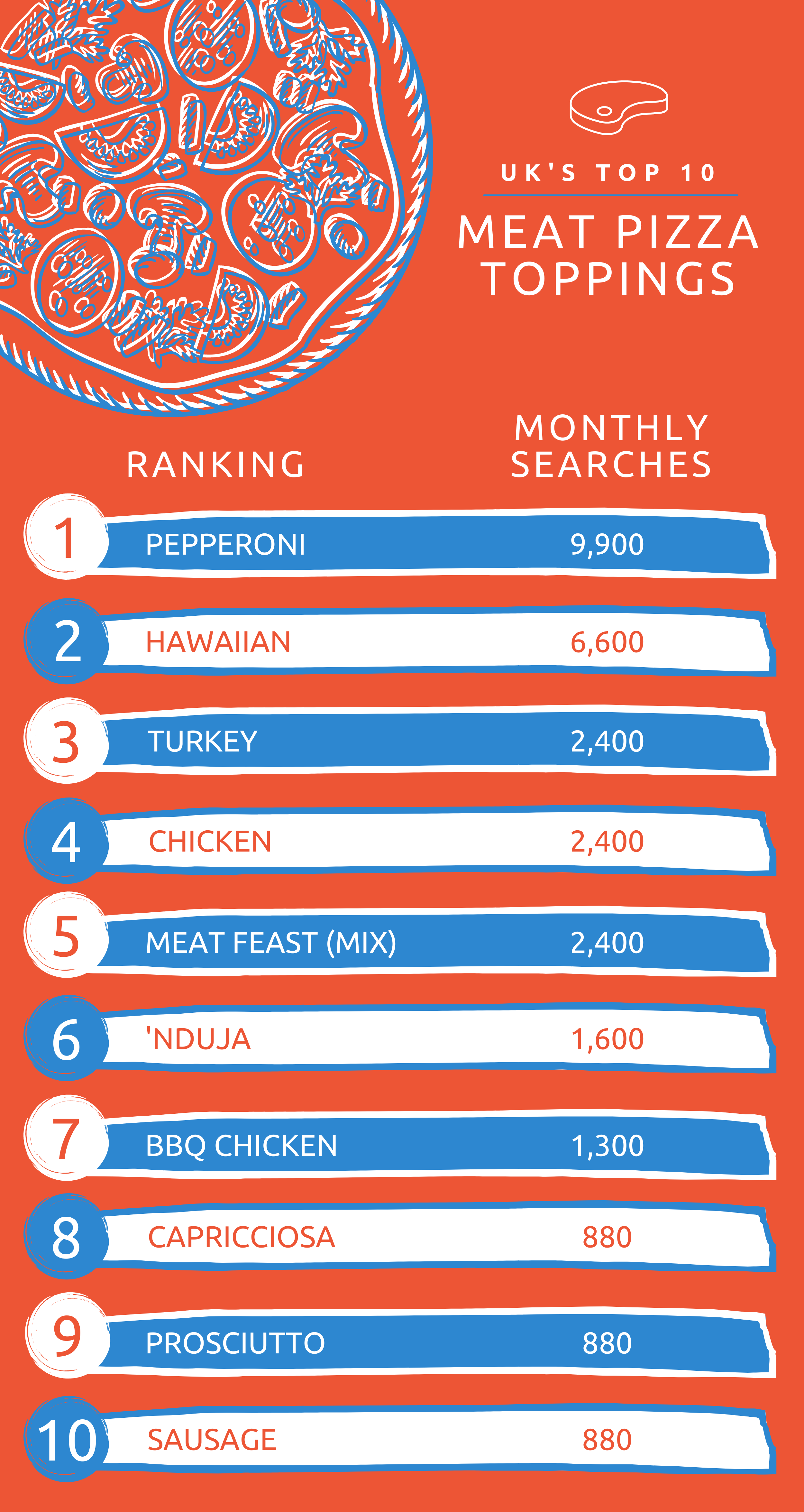 Elsewhere, Italian toppings like 'nduja, prosciutto and capricciosa dominated the top 10. In the last few years, there's been no shortage of authentic, Neapolitan-style pizzerias opening up across the country. Could the increased search volume for Italian toppings like these reflect this?
UK's Top 10 Vegetarian Pizza Toppings
All the usual veggie favourites like mushroom, pineapple and goat's cheese were present and correct in our top 10 but, surprisingly, egg managed to crack the top five. It might sound unusual at first, but trust us, this Florentine speciality (which has become a more popular pizza recently) is well worth trying.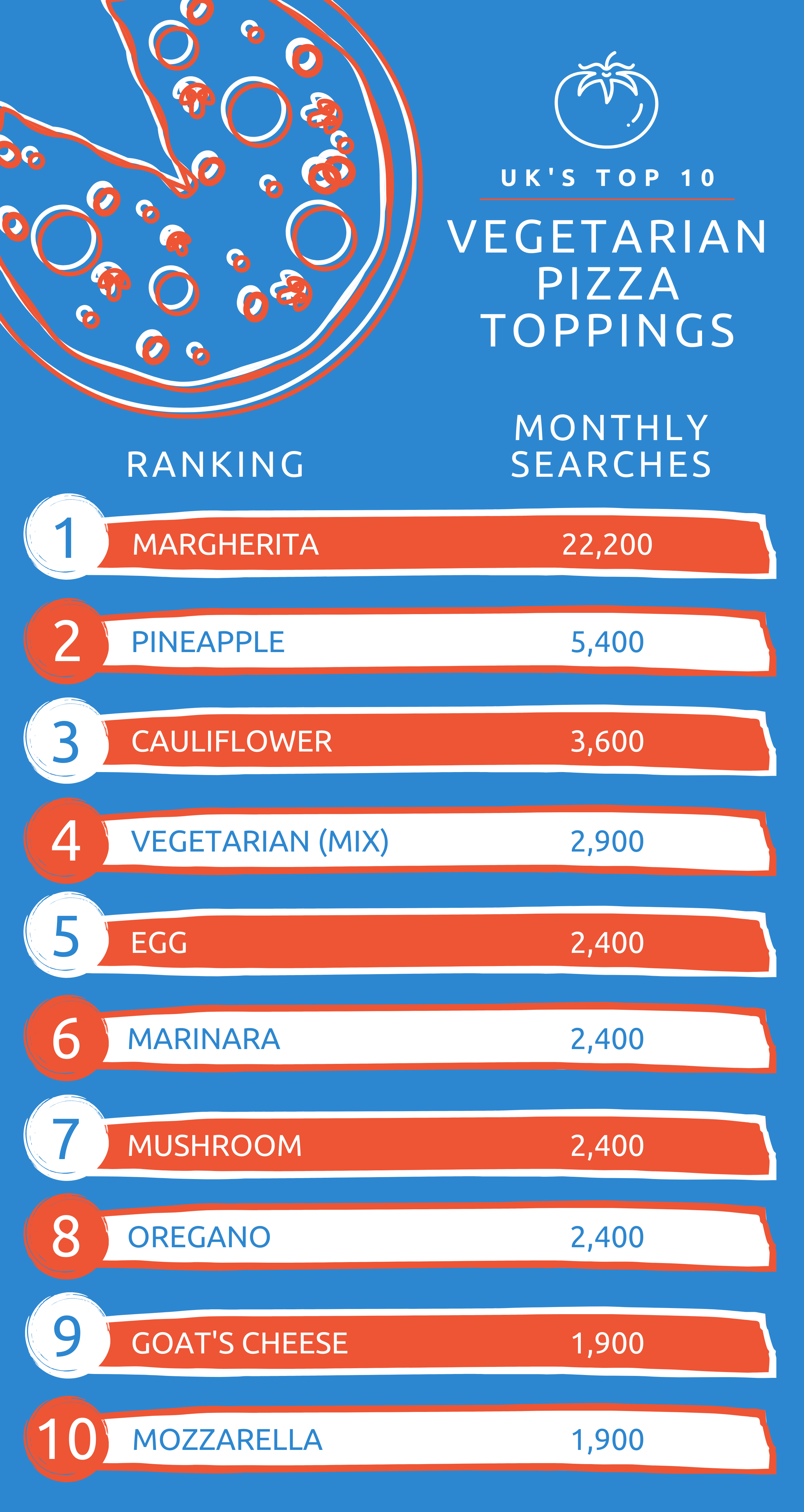 UK's Favourite Styles of Pizza Results
Style of pizza is where we separate the true connoisseurs from the casual eaters. And Chicago-style pizza, the deep-dish variety that has plenty of room for sauce and cheese, came out on top. Even Neapolitan pizza trailed behind the Windy City fave, with 4,000 fewer average searches.
Elsewhere, Detroit-style pizza, a rectangular variety whose toppings go all the way to the edges, took 9th place. It's been steadily on the rise over here, with searches increasing a fair bit since 2017.
St Louis and Greek-style Pizza, however, are seemingly the UK's least favourite styles of pizza. The first is known for its very thin, cracker-like crust (which makes it tough to fold), while the Greek variety's dough is enriched with oil and then cooked in a pan coated with another layer of oil. Nevertheless, neither managed to make it to the top 10.
At Oven Pride, we've made it our mission to take the stress out of cleaning the oven, so you can enjoy endless fun and creation in the kitchen. For more information and kitchen cleaning advice, visit the homepage today.