It's easy for your once-pristine kitchen to quickly look tired and worn. After all, it's probably one of the most frequently used rooms in your home. But if you're looking to transform things, then surely any kitchen refresh requires a small fortune to carry out?
Not necessarily. There are all sorts of different ways you can update your kitchen without breaking the bank. From a fresh layer of paint and making new shelving to adding plants to your arrangements, breathing a little life into your kitchen when you're on a budget can be done. All it takes is a little creativity and imagination (plus a bit of effort) to do.
Here, we'll show you a few different ways you can switch up your kitchen for less.
Clear out the clutter
Before you do anything else, decluttering your kitchen is the first thing you should do. Not only can it make a big difference, but it also has the added wallet-friendly bonus of not costing a penny.
When you're decluttering, it helps to be as thorough as possible. If that means throwing away or donating expensive gizmos you haven't used in years, then so be it. Think of it as a fresh start, so don't be afraid to get ruthless with what you're chucking out. That bulky coffee machine you've used twice since buying it? Stop kidding yourself – get rid!
Keeping the surfaces of your kitchen free from clutter can make the room look bigger and creates plenty of free real estate on worktops too. Plus, there are all sorts of different storage ideas, such as pan lid organisers and over-the-door spice racks, that you can use to help keep your remaining items neater and more organised as well.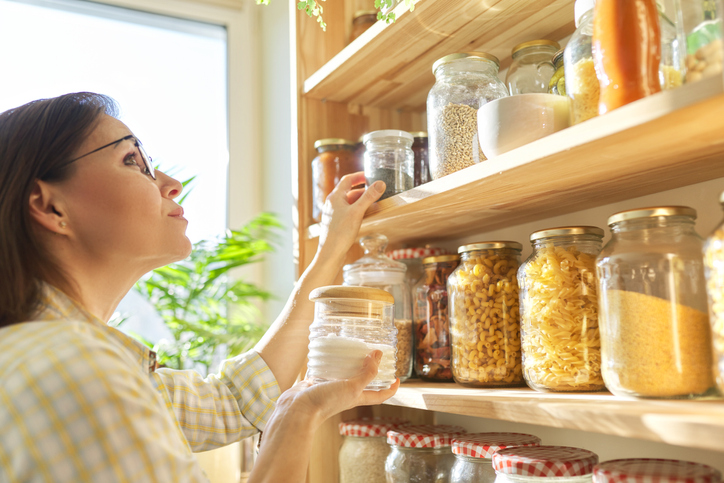 A fresh coat of paint
With the clutter gone, giving your kitchen a new paint job can help to refresh things. Lighten up dingy, tired-looking space with bright, neutral colours instead.
Before you begin, be sure to fill in any holes or wear and tear. And get yourself a drop cloth so you don't end up with paint on the floor either.
If you're painting over timber panelling, you'll need to apply a stain and tannin blocker first. If you're unsure, your local hardware store will be able to advise on this – along with the best paint for kitchen areas.
Keep things airy with open shelving
Open shelving is not only a great way of displaying plates or glasses you're particularly fond of, but they're handy for keeping herbs, spices, and oils within reach while you're cooking up something delicious too. Be sure to figure out what you want to display ahead of time so you can work out the height of the shelves as well as the weight of what you'll place on them.
Creating contrast with your shelving is always a good look too. So, if your existing cabinets are quite sleek and glossy, then try going for shelving in natural wood and vice versa. The variety of materials might look like you've gone all out, but open shelving's affordability can easily spruce up your space for very little.
Go green
Adding a few plants or flower arrangements to your kitchen creates a lush, serene presence with very little effort. Whether it's a wall garden, hanging plants or a selection of herbs to use in your cooking, greenery can add a whole new dimension to things.
Plus, plants have all sorts of different benefits like improving your breathing, purifying the air and increasing humidity, so there's plenty of pros beyond just looking nice – even if it's just a planter to go on your windowsill.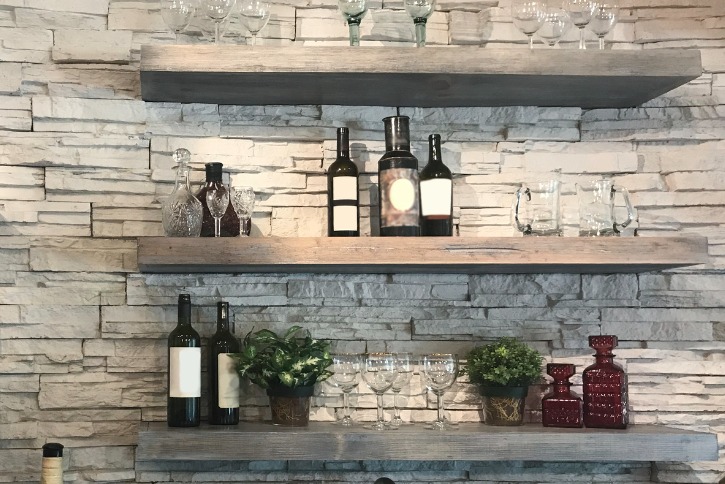 Freshen up cabinet doors
If your cabinet's previous coating is beginning to crack, or you're just not a fan of its current shade, then you can easily re-paint the doors, drawer fronts and hardware without having to shell out for the entire cabinetry.
You could even remove the existing doors from your cabinets and cupboards altogether to create a more modern open shelving look. You could easily paint the backs of the shelves for an extra accent too!
Let there be light
A bold, statement lighting fixture that's the centrepiece of your kitchen can make a big difference, so it's well worth looking for something that's going to stand out. Spotlights and overhead lighting can both create a completely new vibe, especially if they can be dimmed in the evening.
Liven things up with some new appliances
Accessories and appliances centred around a particular theme or colour can really brighten up your kitchen without having to do much at all. Plus, grouping together new stacks of crockery, cups and glassware is a great way of putting that open shelving to use too.
When it comes to appliances, there are plenty of brighter options that can fit into your kitchen's colour scheme if you want to add new hues without altering the furniture. Just be sure they fit into your existing space. So, if your toaster and kettle combo is looking its age, a couple of bright new models could really add a little pop to the kitchen.
Re-tile your walls and splashbacks
If you're looking to add more character to your kitchen, then wall tiles and tile splashbacks are the way to go. Glass and stainless can often be expensive, but tiling makes a great alternative option.
Not only are they affordable and come in plenty of colours, but you only really need a small amount to change things up. Try laying them in herringbone and vertical patterns, as opposed to the usual ring arrangement for a more modern look.
You can easily mix and match colours and patterns too, creating a totally new look that's unique to you.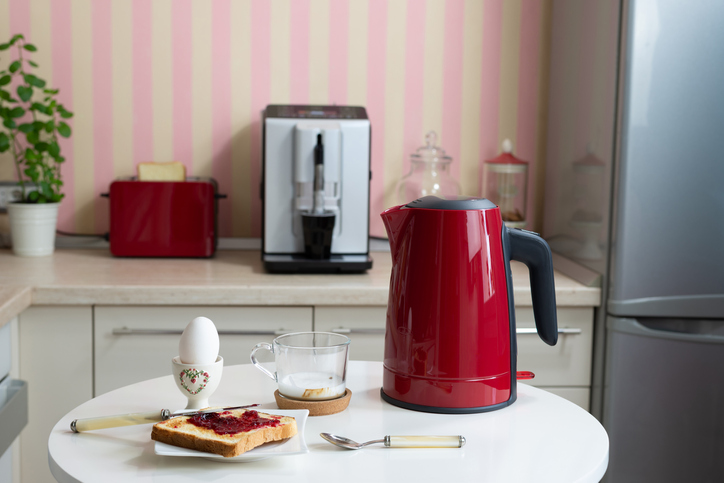 Artwork
Pops of colour from retro art and signage when framed against cool white can really catch the eye, bringing in primary shades without needing to paint anything. Mix up the display by hanging some and propping other pieces against the wall for a more casual feel.
Other affordable kitchen ideas to try:
Hang a pan rack
Bring in vintage furniture
Change the feel of things with a new tap
Add some wall panelling
Update the hardware of kitchen cabinets
Opt for new seat cushions, tablecloths and tea towels
Add a splash of colour to the fridge door with wallpaper or vinyl wrap
Turn a door into a notice board using chalkboard paint
At Oven Pride, we've made it our mission to take the stress out of cleaning the oven, so you can enjoy endless fun and creation in the kitchen. For more information and kitchen cleaning advice, visit the homepage today.