We all know the tell-tale signs of a well-used oven tray. Greasy, sticky, and caked in burnt-on food, returning them to their former glory can be tough, even after you've spent your fair share of time scrubbing away at them with a scouring pad.
The good news is you can save yourself the elbow grease of your previous efforts. We've put together a series of tips and methods you can use to get your oven trays looking as good as new!
Don't throw out your dirty oven trays
If you've had them for a while, it's tempting to see dirty oven trays as a lost cause. But before you consign them to the scrap heap, it's well worth salvaging them, especially when some of the methods are easy to use. This one might sound a bit strange since it uses a 2p coin, but it's well worth trying yourself.
Cover your baking tray in hot, soapy water
Leave it for 30 minutes
Once that time is up, scrub the tray with a 2p coin using a circular motion
Rinse the baking tray and clean the tray in a dishwasher as normal
It's worth noting that this method can damage non-stick pans, so please bear this in mind before giving it a go yourself.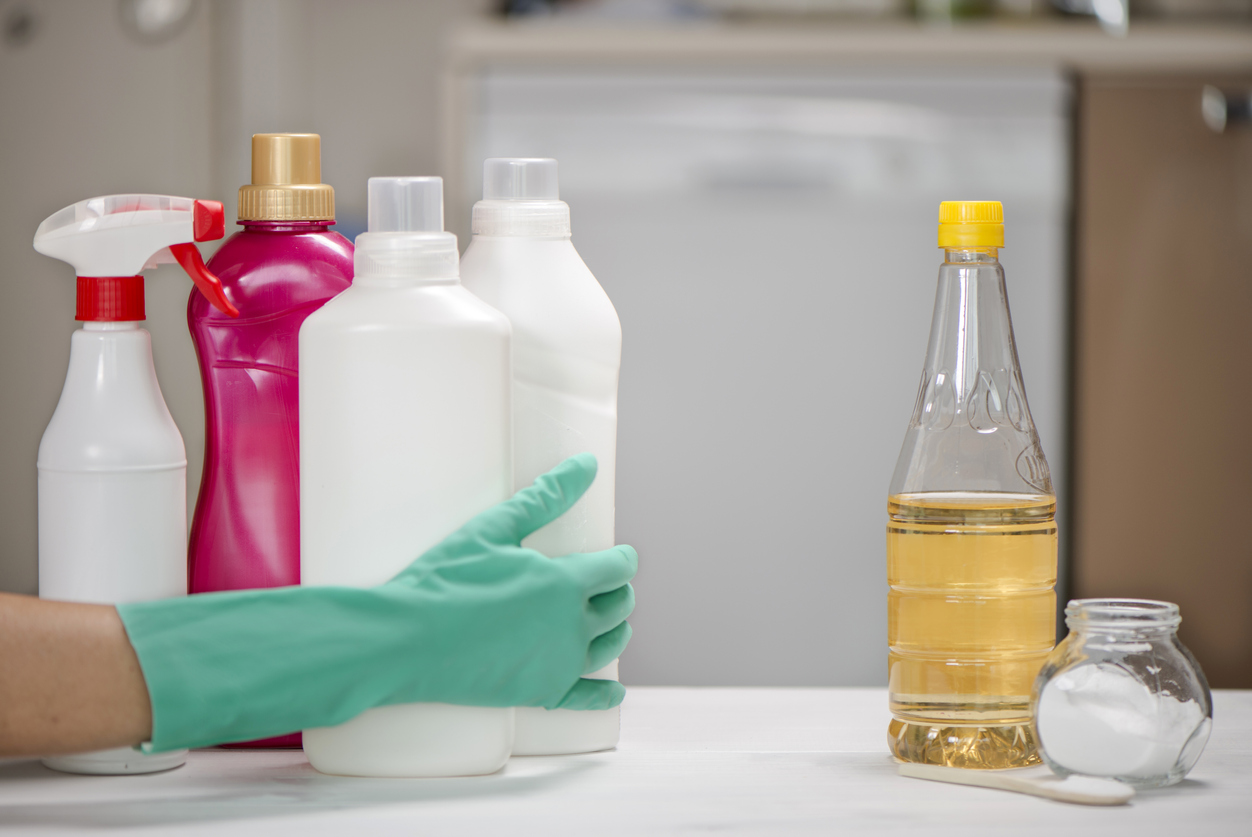 Take care of the burnt bits with baking soda
When your baking trays are covered in burnt-on food, that's when cleaning them can get a little tough. And since soap and detergent aren't enough to take care of this caked-on mess, we have to turn once again to baking soda to remove such residue. Give the following a try:
Use a paper towel to remove loose bits
Before we get scrubbing and scraping, remove any loose residue using a paper towel. Any harsh scouring motion at this point could end up damaging your tray.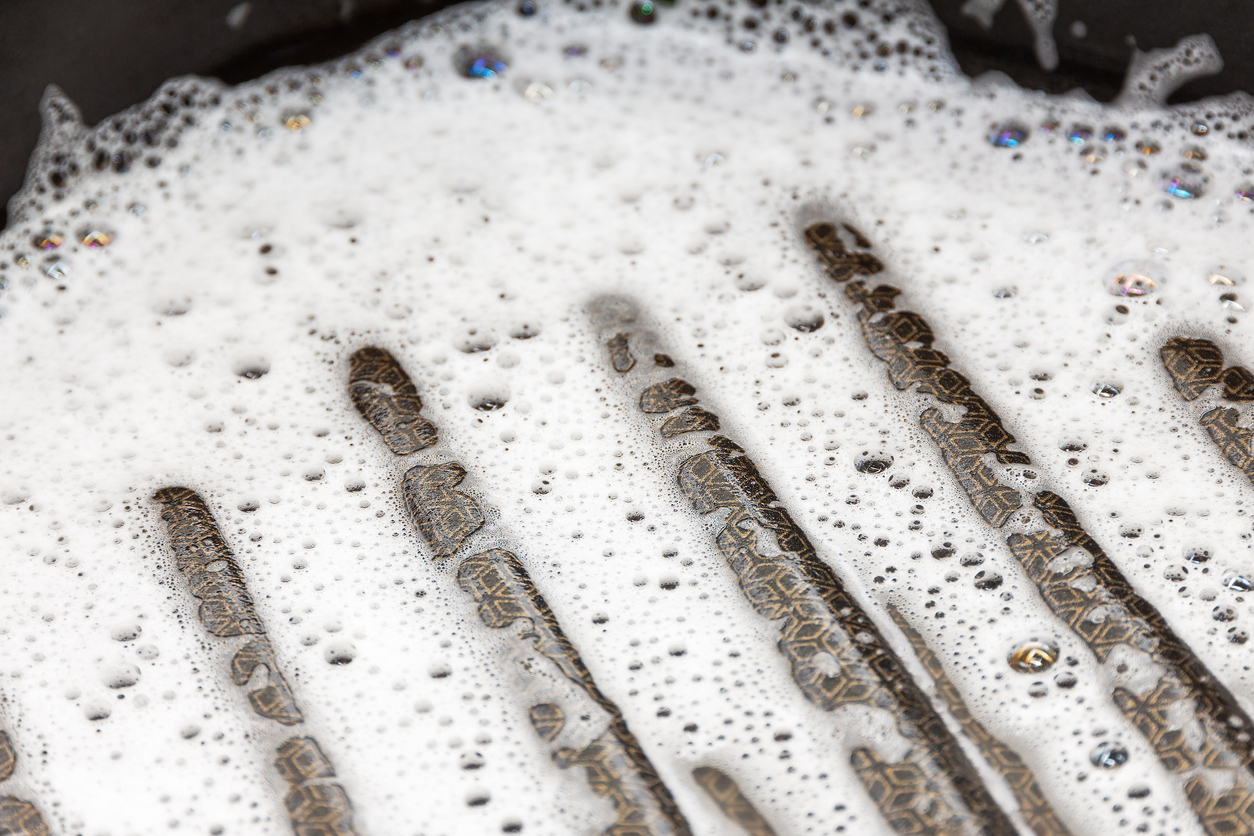 Pour hot water and baking soda into the sink, then soak the tray for an hour
Combine boiling water with a cupful of baking soda in your sink. As it bubbles away, pop in the tray and leave it to soak for around an hour; this provides enough time for our mixture to soften up the burnt-on bits.
Drain the water and wipe away any residue using a cloth or sponge
As the water and baking soda mixture eats away at the coating, you should now be able to wipe away the stains using a cloth or sponge.
Repeat the steps if the tray is too large
If your tray is too big and the sink is too small, you'll need to repeat the above steps for the other part of the tray.
Place in the dishwasher or wash with washing up liquid.
To ensure best results and a sparkly clean finish, place your baking tray in the dishwasher or wash away any remaining bits with washing up liquid.
Get rid of the grease
Dealing with greasy baking trays can be a challenge if you don't know where to start. If you've had trouble trying to take on this slippery customer in the past, give this method a try instead: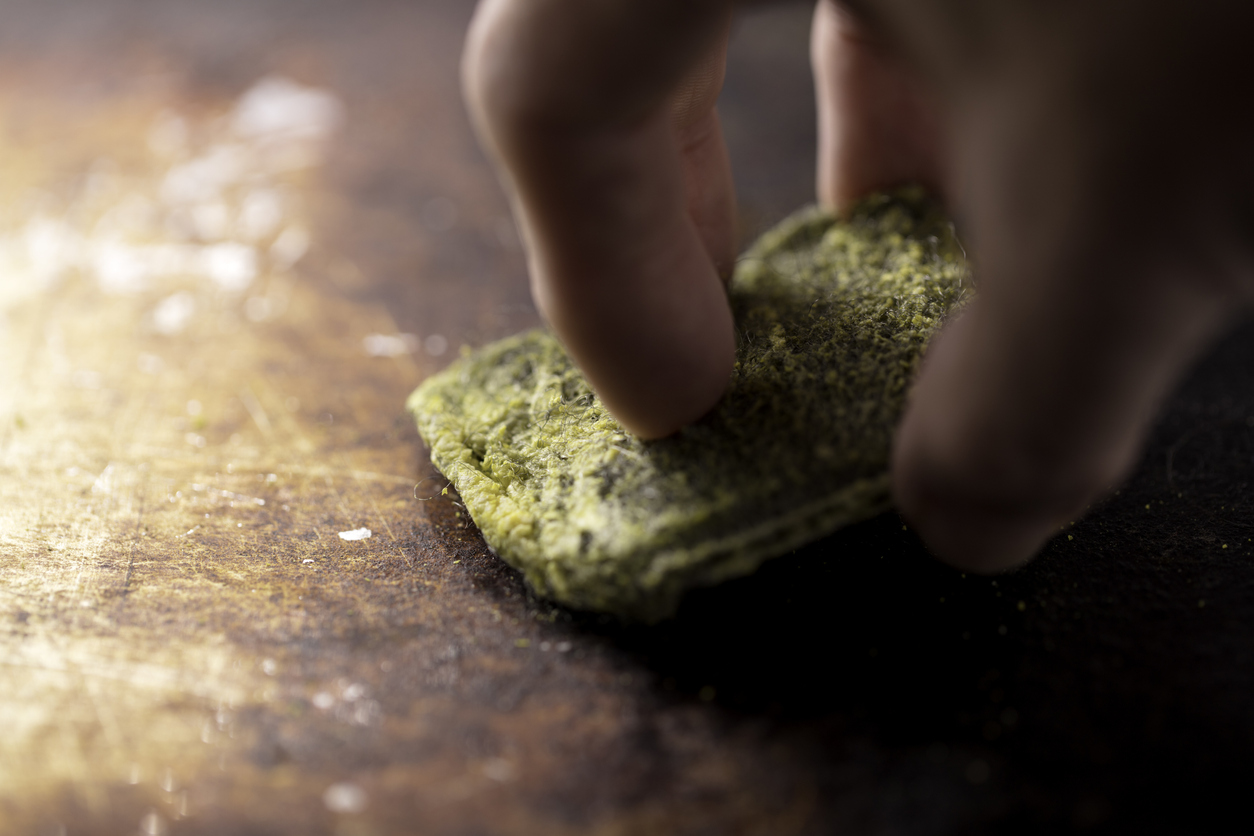 Use a paper towel and some oven and grill spray to wipe away grease
You can find these kinds of sprays in the household cleaning aisle of your nearest supermarket. Apply to the grease and then wipe away with a kitchen towel. You don't need to be thorough, just take care of any big clumps of grease that have accumulated in the corners.
Fill a sink with hot water and washing up liquid
Soak the tray for an hour
Allow the soap to deal with what's left of the oil and grease. If your tray doesn't fully fit in the sink, turn it around after an hour and allow the other side to soak.
Use a soft sponge or cloth to wipe away any residue
If it's a non-stick tray you're dealing with, use a soft sponge or cloth to wipe away the remaining grease – it should come off fairly easily. If your tray isn't non-stick, use a scouring pad and give it a good scrub to get rid of the more troublesome spots.
Pop in the dishwasher
For the best results, pop your newly-scrubbed tray in the dishwasher for one last clean.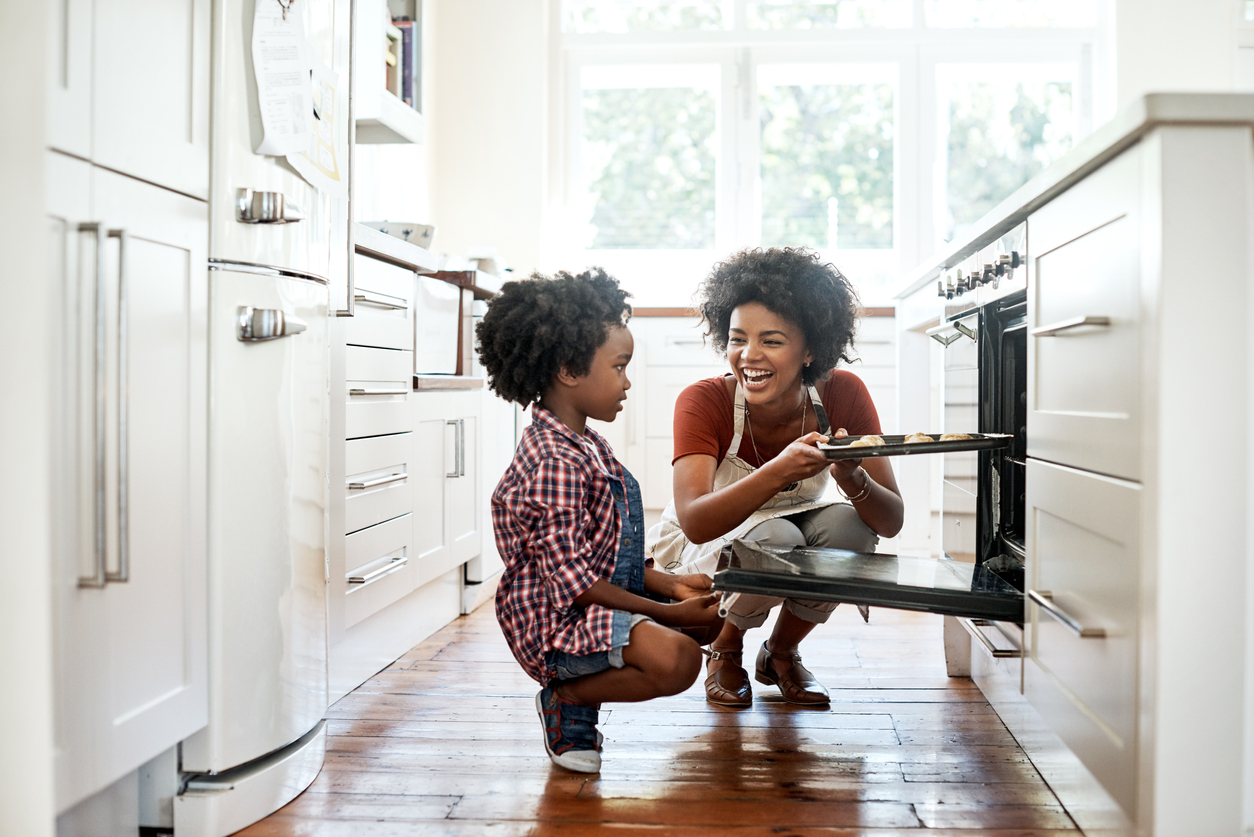 How to keep your trays clean all the time
Keeping your trays in good nick throughout the year is just a case of regularly maintaining them. Want to lighten the load of your kitchen cleaning and keep your trays cleaner in the process? Use these top tips:
Use lining paper on your baking trays where possible to avoid burnt on liquids, grease and oil. You can also buy reusable tray liners which are much more environmentally friendly compared to disposable roasting tins
Soak your oven trays in hot, soapy water straight after use – be careful not to burn your hands
Avoid scrubbing too hard with abrasives on any non-stick baking trays that you have
Use paper towels to remove excess grease before and after cleaning
At Oven Pride, we've made it our mission to take the stress out of cleaning the oven, so you can enjoy endless fun and creation in the kitchen. For more information and kitchen cleaning advice, visit the homepage today.