Ever wondered what your weekly food spend would get you in another country? You're in luck.
Using data from Numbeo – the world's largest cost of living database – we worked out the prices of various weekly food shop items from different countries around the world. We analysed which of these kitchen staples were the priciest, which were the cheapest and in which countries we'd have to pay the most overall to feed ourselves.
What foodstuffs did we take a closer look at? In our study, we went for things you'd generally see in fridges and kitchen cupboards all around the globe: bread, milk, eggs, chicken, potatoes, water, cheese, apples, bananas and rice.
So, which countries have the most expensive shopping lists? How do food items compare around the world? And how long would it take the average UK worker to afford a weekly shop in, say, Switzerland? Read on below for the answers…
How Much Does a Weekly Food Shop Cost Around the World?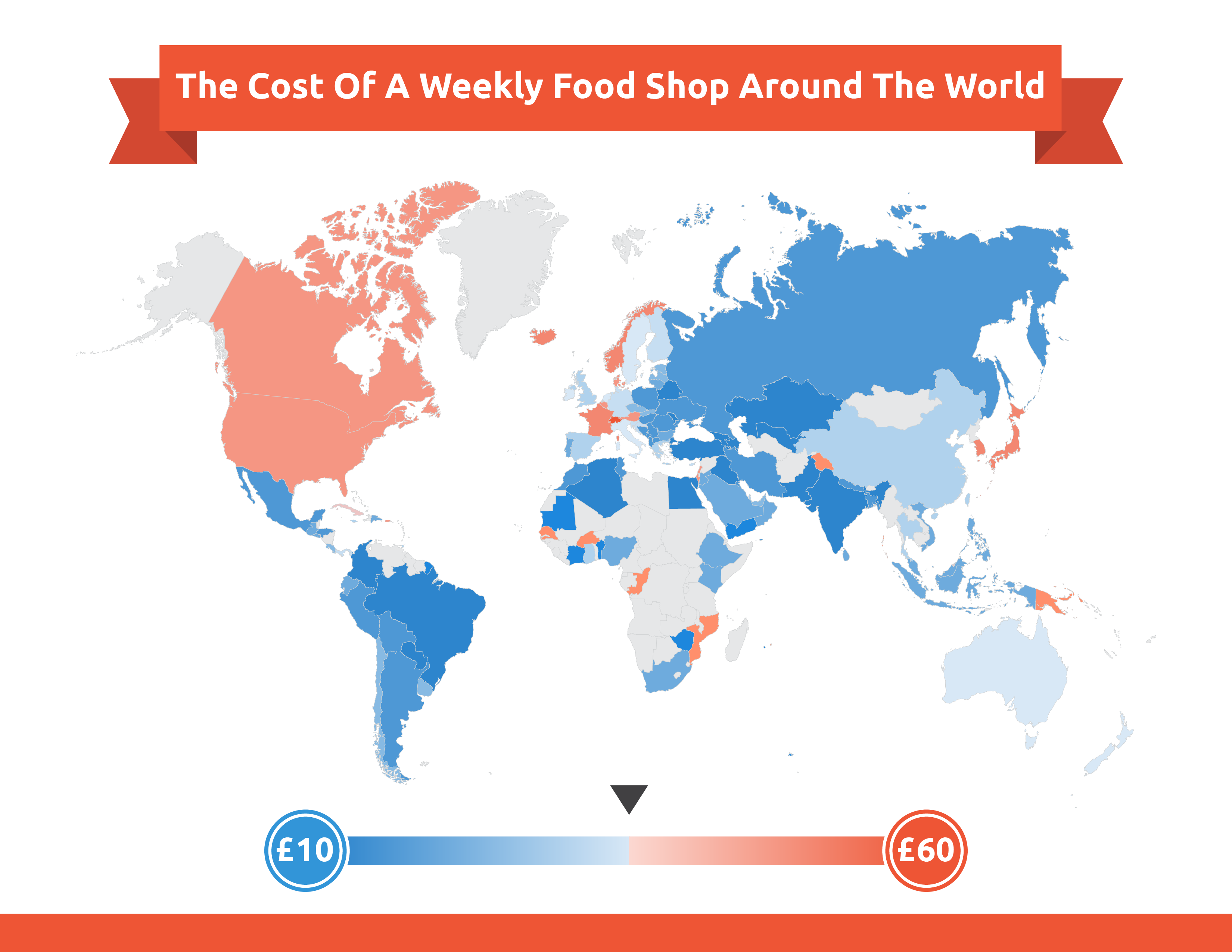 From Numbeo's data, we saw that the average cost of a weekly food shop around the world is £21.20. But how does the UK compare to the weekly food shops of other countries?
With a weekly food shop of £22.86, we're the 40th most expensive country, coming just £1.66 over the average.
In terms of the food items we mentioned earlier, the UK was above average when it came to cost, except for the following:
Bananas – 5p below average
Rice – 17p below average
Cheese – 71p below average
Across Western Europe, Nordic countries like Norway and Iceland, as well as Switzerland, racked up the more expensive weekly shops. Further afield in Asia, South Korea, Taiwan, Japan and Hong Kong were also much pricier when compared to the UK.
In some of these more expensive countries, we'd have to work our socks off to afford weekly food bills. Take Switzerland, for instance. The average UK worker would have to work for 7 hours and 27 minutes to afford groceries – practically a full day's work!
In South Korea, the second most expensive place to purchase more traditional Western food, we'd have to work for 5 hours and 23 minutes.
Other countries wouldn't require as much toil. In Pakistan, just one hour and 20 minutes would be enough to put food on the table. Since the minimum hourly wage is around £2.20 in Pakistan, locals over there would have to work for 4 hours and 28 minutes – more than double the time we'd have to!
What Are the Most and Least Expensive Weekly Food Shops by Country?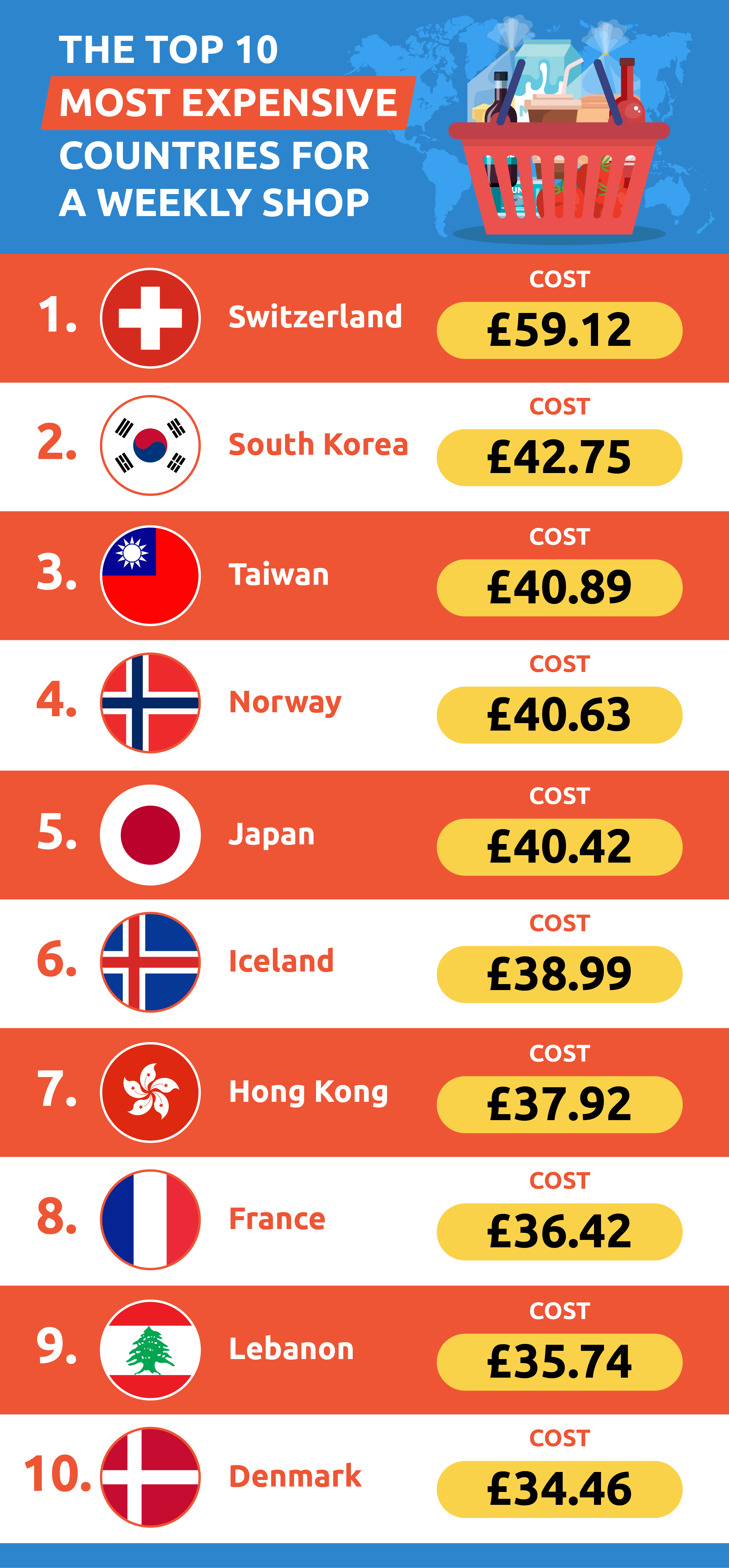 Far and away the most expensive country in the world for a weekly food shop, it costs residents of Switzerland £59.12 for seven days' worth of food – £36.26 more than it does in the UK.
Switzerland takes the top spot by some margin, too, beating South Korea's second place by £16.37. South Korea was also the most expensive Asian country for buying food.
Meanwhile, France was the only non-Asian, non-Nordic country to appear in the top 10, beating out all other European countries in terms of expense. In sixth place, Norway was also the most expensive European and Nordic country for food prices.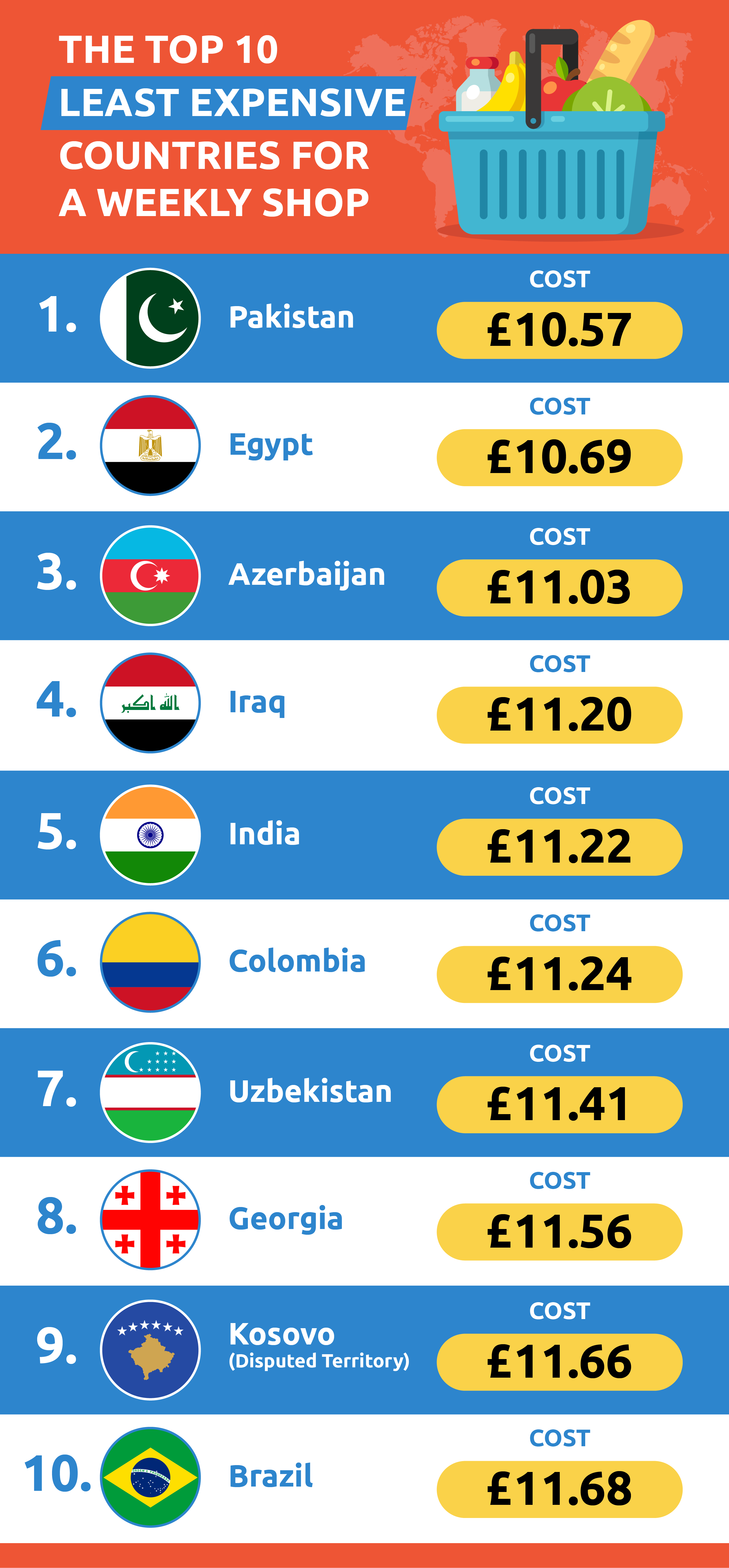 At the other end of the rankings, Pakistan is the least expensive country in the world for a weekly food shop, followed by Egypt and Azerbaijan. Of the countries in the top 10 least expensive, four were in Asia (three of which were part of the Middle East), one was in Africa, two were in South America, and three were European.
How Much Does Food Cost Around the World?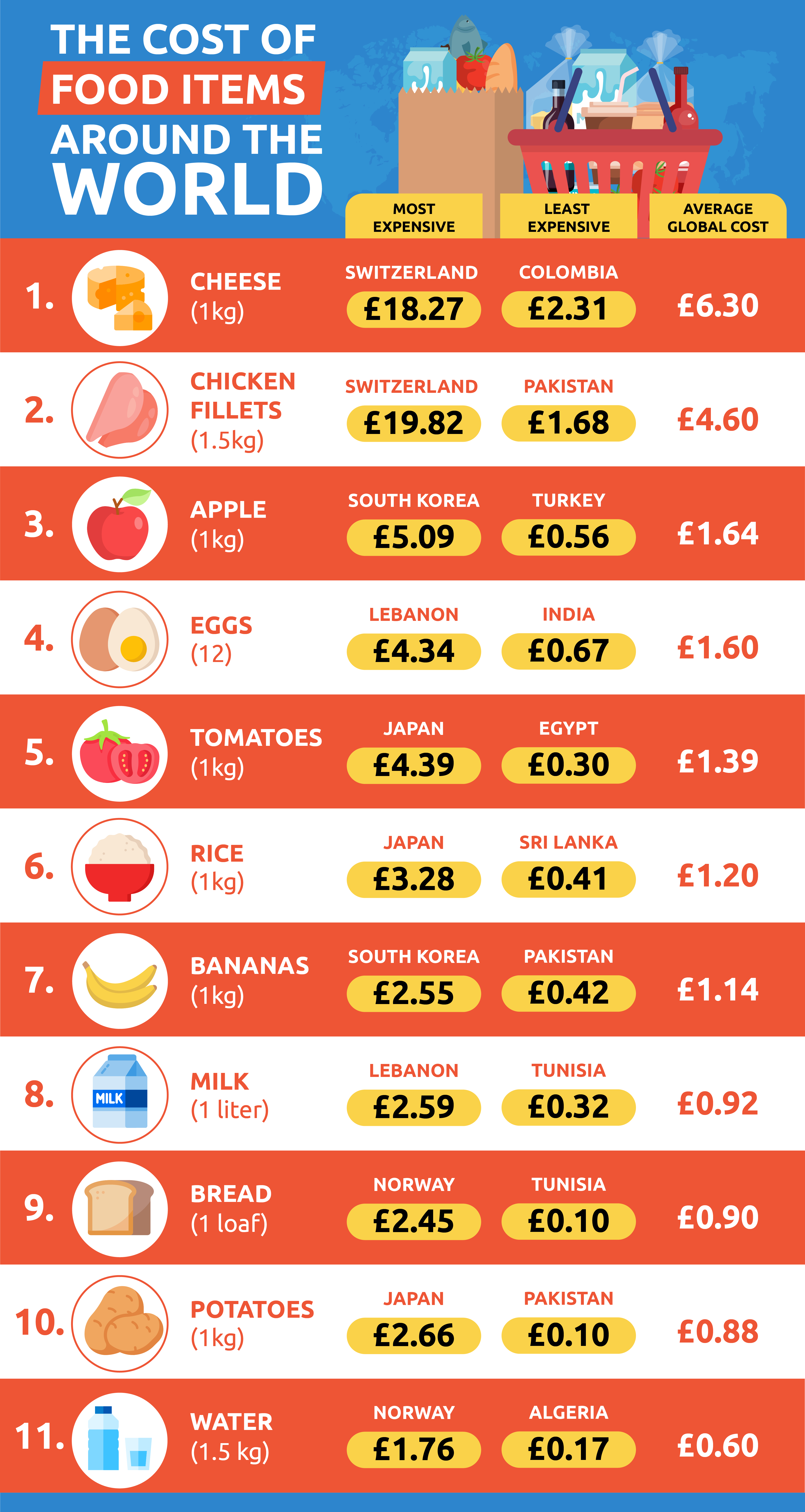 As you can see from the above, what can be costly in one country can be cheap as chips in another. But how do these prices compare to the UK?
Over here, our milk, bananas, rice and cheese are priced below average, but everything else is priced above average. Delicious though it may be, cheese is by far the most expensive item overall, with an average price of £6.30 – 71p more than we'd pay for the stuff here.
Over in Switzerland, the Swiss are more than happy to hand over £18.27 for 1kg of local cheese, £12.68 more than we'd pay here. Likewise, 1kg of chicken in Switzerland will set you back a whopping £19.82, £14.24 more than the £5.58 we'd pay in the UK.
Further east, Japan and South Korea are the most expensive countries to buy rice, which is a little surprising given that the grain is such a staple in Japanese and Korean dishes!
Around the world meanwhile, apples are also more expensive than bananas and oranges, while here in the UK, water costs around the same prices as milk does.
At Oven Pride, we've made it our mission to take the stress out of cleaning the oven, so you can enjoy endless fun and creation in the kitchen. For more information and kitchen cleaning advice, visit the homepage today.