With all sorts of pasta bakes, joints of meat and other tasty treats going in your oven, it's unsurprising that it's a haven for spillages and grease. With that said, we probably neglect cleaning our ovens as much as we should, which means when the time comes to give them a once over, the task usually ends up being tougher and more frustrating than it needs to be. This leads to us putting it off, creating a vicious cycle where the oven becomes dirtier and dirtier the longer we leave it.
The good news is, there are plenty of tricks and tips you can use to make it a little easier for yourself next time you need to give your oven some TLC.

Turn on the self-cleaning function
If your oven has a self-cleaning function, then perhaps your first port of call should be to switch it on. This works by turning the oven up to 500°C, which then breaks down the grime, and makes the residue easy to wipe away with a damp cloth or sponge once it's cooled down properly.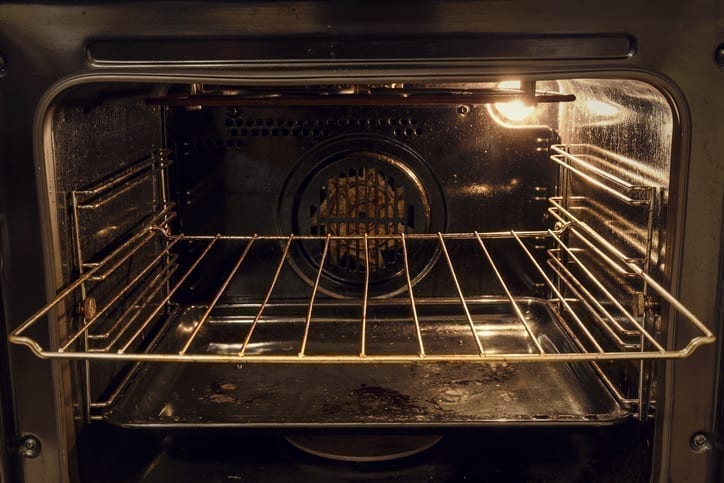 If this isn't an option for you, then these methods will definitely come in handy.


Line the floor of the oven

There are a few things you can do to keep your oven clean before you even use it, too. Since the oven floor is usually covered in all sorts of mess, it's a good idea to line the base with either a piece of tin foil or specially-designed oven sheets. These will catch any drips, spills and food that falls onto them, meaning you'll rarely (if at all) have to clean the oven floor again. They're non-stick and heat resistant, and can just be wiped clean or thrown in the dishwasher when you're done.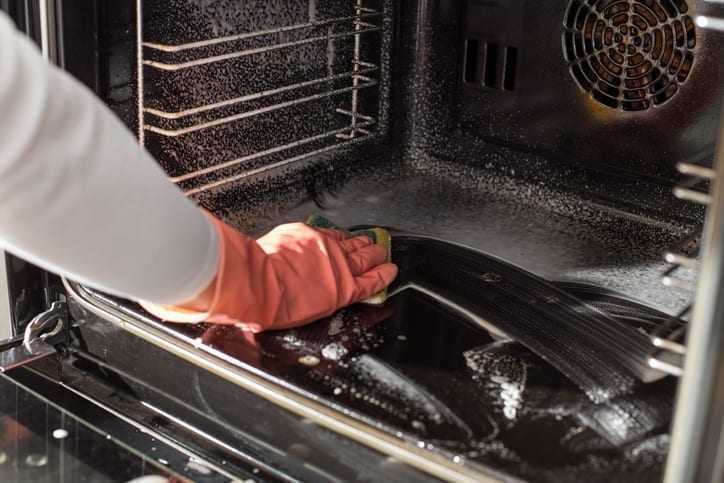 Use roasting bags

Similarly, you can ensure there are no other extra spills and splatters on the oven by using roasting bags for meat, fish and veg. As food cooks, liquids contained within get vaporised. This may look like steam, but the vapour coming off say, a roast chicken, is actually a fine spray which contains its fair share of grease. As it hits the surfaces of your oven, the spray cools and the fat content becomes condensed.
Using these handy bags allows your food to cook properly and infuse all the flavours without creating any sort of mess for you to deal with afterwards. Additionally, for things like casseroles, dishes with lids keep things clean too, stopping this grease/steam combination escaping.
Use the bowl method
As soon as you've finished using the oven, a great tip is to put a heat-resistant bowl of water inside and heat it at a high temperature for 20 minutes so it can loosen dirt and grease. Once the time has elapsed, remove the bowl, wait for the oven to cool down completely and wipe down the surfaces with paper towels.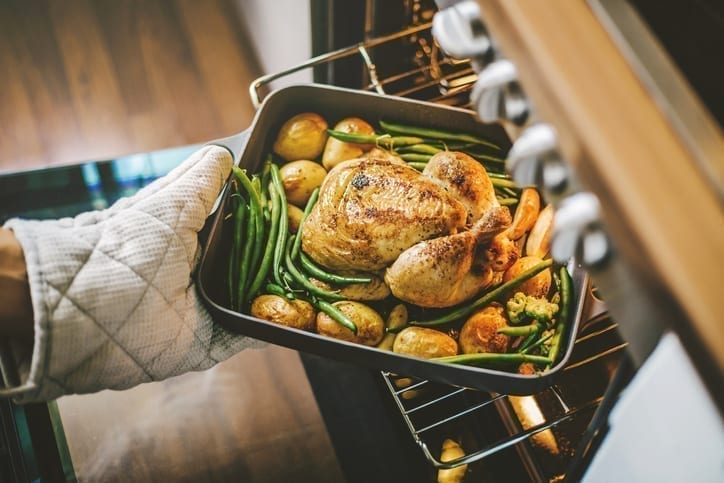 Place a spare roasting tray in there
For big cuts of meat that you're roasting, stay on the safe side of things by placing a spare roasting tray at the bottom of the oven during cooking. This will catch any spills while its cooking, so hey presto, it becomes a ready-made drip tray. And what's more, you can easily remove the tray afterwards and clean it with no effort needed.
Don't forget the outside
Taking care of your oven's interior is one thing, but it's important not to neglect the exterior either. Place an old towel either on the floor or in the gap between the oven and where the door opens. Remove any stuck -on food using a glass scraper or scouring pad. Spray the glass with a mix of water and white vinegar before wiping away.
Note: do not attempt to take your door apart. The tips we've provided here can be combined to ensure the best possible results when it comes to cleaning your oven.
Of course, the best way to keep your oven sparkling clean is to use Oven Pride, the UK's number one oven cleaning brand. Our powerful formula can tackle even the most difficult stains and burnt-on food.
Check out the new Oven Pride blog or visit our homepage to learn more about our unique oven-cleaning formula.