2020 has turned out to be a year that none of us expected, and while we're counting down the days until we can hug our pals and visit our relatives again, there is a small silver lining to come from lockdown – and that's spending more time with the little ones. If you've exhausted the dressing up box and watched as many Disney movies as you can, it's time to get creative in the kitchen.
Cooking and experimenting in the busiest room of the house is a great way to build confidence, develop motor skills and build positive associations with food. Plus, there are some educational options which will feel far more like play than schoolwork!
Check out our top five kitchen activities to keep the kiddos entertained all winter.
Make milk paints
Homemade paints are lots of fun. Not only will your little one have all the fun of an art session, they'll also enjoy making the paints in the first place.
Here's what you'll need:
2-parts powdered milk
1-part water
A few drops of food colouring or liquid watercolours
How to make your paint:
Mix the milk and water together in a bowl
Slowly add in the food colouring or watercolours until you achieve the right colour
Paint!
Educational tip: Talk to your child about the different shades that are created by adding a little colour. They'll love watching the colours disperse in the milk and love painting with them afterwards.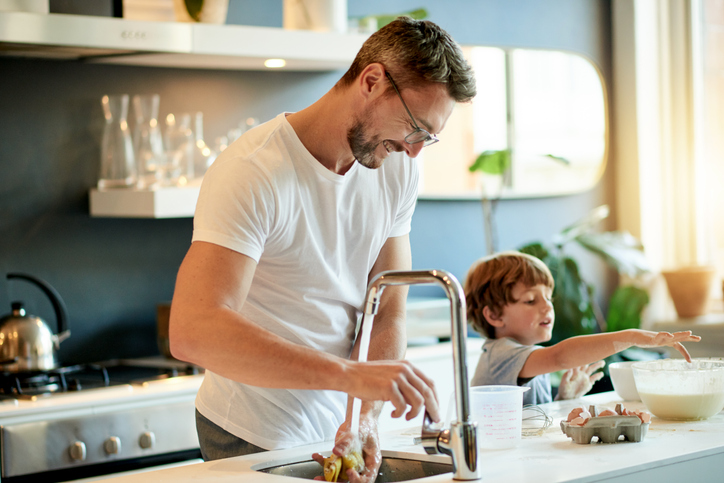 Create a hanging bird feeder
If your little one is a fan of animals, then making a hanging bird feeder could be the perfect rainy-day activity. These eye-catching feeders will attract lots of gorgeous birds to your garden and help the local bird community when food is scarce in the winter months.
Here's what you'll need:
150g of bird seed
1 packet of unflavoured gelatine
60ml of water
large biscuit cutters
string
a straw
wax paper
How to make your feeder:
Bring the water to the boil and add the gelatine. Stir until dissolved and then allow it to cool.
Add in your birdseed and have your youngster stir the mixture.
Place the wax paper on a table and put the cooled mixture into the cutter to shape.
Push the straw through the top to make a hole.
Put the feeders in the freezer for 20 minutes or so to allow them to harden.
Tie a string through the hole and hang in the garden.
Educational tip: You could talk to your child about the types of birds that come into your garden, and discuss the foods that they eat.
Become a secret agent with invisible ink
If your little one is a fan of all things spy-related, then they're going to love this very cool invisible ink trick. It's very simple to do and will provide hours of fun.
Here's what you'll need:
Half a lemon
Water
Spoon
Bowl
Cotton bud
White paper
Lamp or other light bulb
How to make your invisible ink:
Squeeze the juice from half a lemon into a bowl, add a few drops of water and mix together.
Dip a cotton bud or the end of a pencil into the mixture and write your message onto the paper.
Wait for it to dry so it becomes completely invisible.
When it's time to read the secret message, heat the paper by holding it close to a light bulb.
Educational tip: Discuss the chemical reaction that takes place. Lemon contains carbon compounds which are released when heated; when this is exposed to the air, oxidation occurs.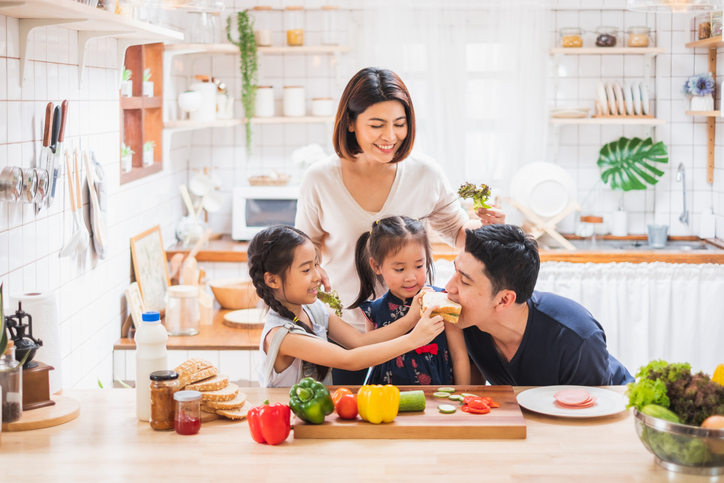 Make colourful slime
We don't know what it is about slime, but kids seem to absolutely love it. If your child loves the gunky stuff, then why not make a batch at home? Easy, affordable and you know exactly what's gone into it.
Here's what you'll need:
100ml PVA or children's craft glue
½ tsp bicarbonate of soda
gel food colouring
1 tsp contact lens cleaning solution
How to make your slime:
Squeeze the glue into a mixing bowl. Add the bicarbonate of soda and mix well.
Add a drop of food colouring (or add more for more vibrant colours) and mix well.
Add the contact lens solution and mix together.
The mixture will become stringy to begin with, eventually coming away from the bowl as the slimy stuff your kids are used to.
Take the concoction out of the bowl and knead with your hands until it loses its stickiness and become smooth and pliable.
Educational tip: Depending on the age of your kids, your slime making could be a science lesson on polymers and non-Newtonian fluids – or it could just be tons of fun!
Create a water xylophone
All kids love playing with water. This wholesome activity could provide hours of fun and is very easy to do from the comfort of your kitchen.
Here's what you'll need:
6 jars – mason jars, old jam jars, any will do
Water
Red, yellow and blue food colouring
A measuring jug
A xylophone striker (a drum stick or even the end of a wooden spoon will do)
How to make your water xylophone:
Involve the kids and encourage them to use the measuring jug to pour different amounts of water into each jug – aim to spread the amounts fairly evenly, but with differences between each.
Drop in the food colouring to make different coloured jars – you could aim for the colours of the rainbow.
Next, use your drumsticks to play your water xylophone.
Educational tip: Discuss primary colours and how to make greens, oranges and purples from the colours you have already.
As parents, we tend to keep the kitchen as a space to prepare food for the children, but there are so many fun activities that you could be missing out on. Have fun, get messy and try some of the activities above. And remember, it's much easier to clean slime and milk paint off kitchen floors than carpets! Have fun.
At Oven Pride, we've made it our mission to take the stress out of cleaning the oven, so you can enjoy endless fun and creation in the kitchen. For more information and kitchen cleaning advice, visit the homepage today.