Not a fan of a heavy fruit cake with marzipan and icing topping? You're certainly not alone but for some reason, when the festive season rolls around, it's the only thing the recipe blogs are concerned with.
If you're planning on baking up a storm this festive season but want to steer clear of the traditional Christmas cakes, puddings and pies, then take a look at our alternative Christmas cake list below.
Christmas chocolate log
There are few cake flavours more popular than chocolate, but it's just not very festive. Or is it? This simple yet delicious festive chocolate log has all the festive appeal of a Christmas cake but none of the marzipan! Add a sprinkling of icing sugar "snow" on top and perhaps a sprig of holly and you're good to go.
For the cake
Butter
7 free-range eggs, separate yolks from whites
140g caster sugar
65g cocoa powder
For the filling
200ml double cream
75ml crème fraiche
100g raspberries
40g dark chocolate
How to make:
Line a Swiss roll tin with baking paper and lightly grease with butter. Preheat the oven to 180C/160C Fan/Gas 4.
Whisk egg yolks and sugar in a bowl until thick. Sieve in the cocoa powder and stir until fully mixed.
Whisk egg whites until stiff. Fold into the cocoa mixture a spoonful at a time.
Once combined, pour mixture into the baking tin and spread out evenly. Bake for 20 minutes.
Transfer to wire rack and leave to cool.
Whisk together double cream, then fold in crème fraiche. Using a spatula, spread the mixture over the sponge. Sprinkle over the raspberries. Roll up from one of the short sides.
Melt the dark chocolate and drizzle the chocolate over the top of the cake.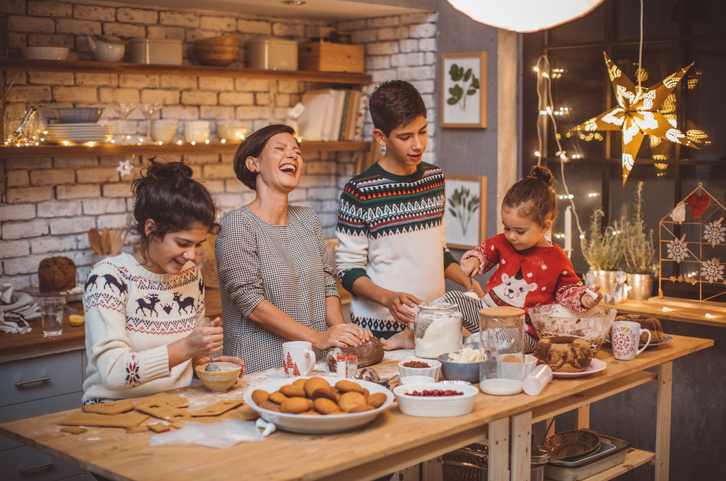 Gingerbread train
Gingerbread men are a Christmas classic, but they're also so 2019. Bring your gingerbread creations bang up to date by creating a gingerbread train. It will look highly impressive to visitors, but is surprisingly simple to make.
For the gingerbread
125g butter, softened
90g brown or Muscovado sugar
230g golden syrup
375g cake flour
2 tsp (10ml) ground ginger
1 tsp (5ml) mixed spice
1 tsp (5ml) bicarbonate of soda
For the royal icing
1 large egg white, beaten
2 cups icing sugar, sifted
squeeze of lemon juice
How to make:
Preheat the oven to 180C.
Cream the butter and sugar well until very pale and fluffy. Add the syrup, flour, spices and bicarb and mix until a smooth dough forms.
Roll the dough out onto a floured surface until 4mm thick.
Refrigerate for 30 minutes to harden.
Using train cookie cutters, cut out the shapes and place on a lined baking sheet. Bake in the preheated oven for 8-10 minutes or until golden and crisp. Allow to cool completely.
Sandwich the pieces together with the royal icing and allow to dry.
Then decorate the carriages using icing and whatever sweets you like best!
Christmas cake pops
The festive season is jam-packed full of cake and if you find you have more than you can realistically eat in a day, why not use the leftovers to make cake pops? These super fun alternatives to cake will last for longer and be a great treat for the kids.
For the cake pop
200g leftover cake
160g milk chocolate
1 orange with zest finely grated
Lolly sticks
For the decorations
300g dark chocolate, broken into chunks
50g white chocolate, broken into chunks
Red and green writing icing
How to make:
Pulse the cake in a food processor until you have fine crumbs.
Melt the chocolate and stir in the orange zest.
Work the chocolate into the crumbs using your hands.
Form the mixture into smooth truffle-sized balls using your hands.
Arrange the balls on baking parchment and refrigerate for 30 minutes.
Dip a lolly stick into the now set cake balls – about 1.5cm in.
Melt the dark chocolate and dip the cake pop into the melted chocolate, allow excess chocolate to drip off and continue with rest of the balls. Return to the fridge and allow to set for one hour.
Heat the white chocolate. Allow to cool for a few minutes until it has a thick, runny consistency and spoon on top of the cake pops, covering halfway.
Wait until completely cooled and then draw holly decorations on top using your writing icing.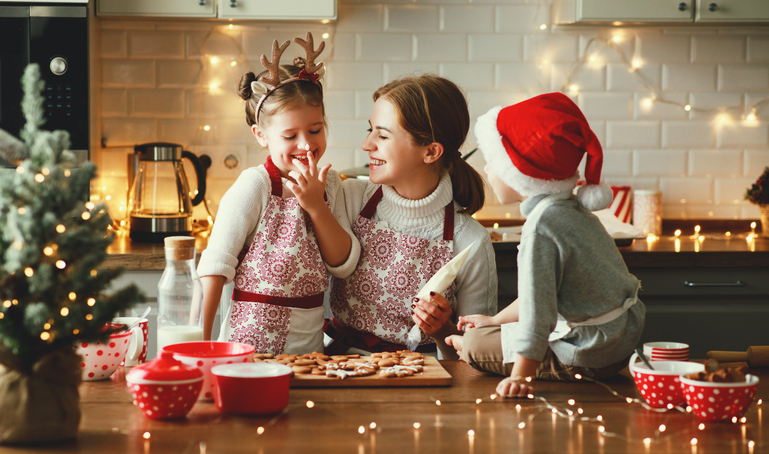 Festive Florentines
There are few sweet treats more delicious than the Florentine. Made with almonds, cherries and dark chocolate, these yummy creations will make the perfect alternative if you're steering clear of Christmas cake.
50g plain flour
50g salted butter
50g light muscovado sugar
50g golden syrup
175g dark chocolate
50g chopped glacé cherries
75g flaked almonds
50g chopped pistachios
Zest of two oranges
How to make:
Heat oven to 180C/160C/gas mark 4 and line two baking sheets with baking parchment.
Melt the butter, sugar and golden syrup over a low heat, stirring frequently.
Remove from the heat and whisk in the flour before adding in cherries, flaked almonds, pistachios and orange zest.
Scoop mixture into 10 balls and place onto the baking sheets, leaving room for them to spread.
Bake for 10 mins until golden and transfer to wire rack until cool.
Melt the chocolate in a bowl and spoon chocolate onto the base of each florentine. When the chocolate has cooled a little, draw wavy lines on top with a fork.
So, there you have it. Four great alternatives to the humble Christmas cake. And, if you do love Christmas cake then why not make them anyway, 'tis the season to indulge after all! 
At Oven Pride, we've made it our mission to take the stress out of cleaning the oven, so you can enjoy endless fun and creation in the kitchen. For more information and kitchen cleaning advice, visit the homepage today.