With restrictions lifting in time for the summer, many of us will be looking to make up for lost time after months of lockdown. And what better way to catch up with friends and family than by hosting an outdoor dinner party?
Now that the rule of six no longer applies outside, garden dinner parties are back on the table. But if you're serious about having a good time, there's the small matter of preparation to deal with.
To make sure everything goes off without a hitch, your outdoor dinner party should be planned with precision. That way, you'll be spending less time fretting over the little things and more time enjoying yourself in the company of friends and family after all the time you've spent apart.
Make your plans early
Now that freedom is returning, people will be eager to start making plans again. After being cooped up inside for so long, your friends and family's diaries are bound to fill up quickly.
To avoid disappointment, be sure to invite your guests well in advance so you can set a date that suits everyone.
Plan the menu out
If you're catering for a lot of people, then planning in advance always helps. To keep things as stress-free as possible, go for something simple that you've made before.
Taking the familiar approach means you'll already know the steps you need to take before the party. And since you're a pro at making it, you know what the end result should look like.
Of course, you'll need some snacks and sides too. Canapes and simple appetisers always go down a treat, while a cheese board adds a touch of class while you while away the hours together.
For guests with a sweet tooth, a simple dessert that requires minimal preparation is sure to please. After serving and cooking food all day, something that's ready to take out of the fridge with no hassle is the best option.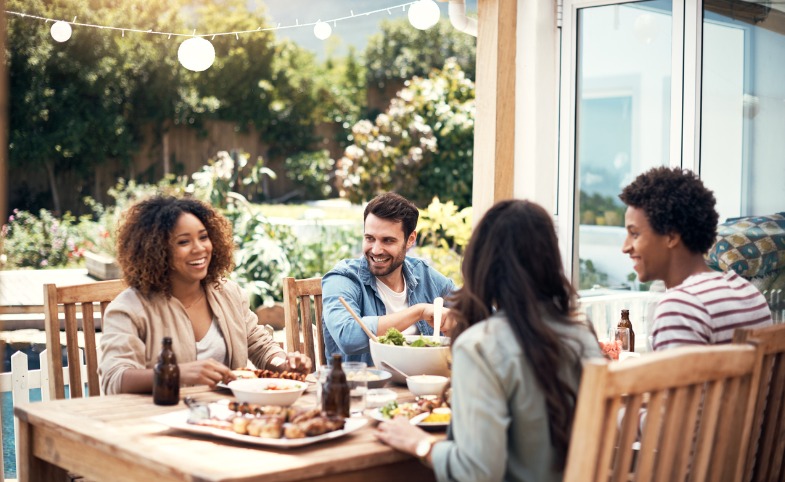 Prepare food and drinks where possible
Leaving all your food prep to the day of the event is a sure way of stressing yourself out in the kitchen while everyone else is enjoying themselves.
Even if the entire meal you've chosen can't be prepared in advance, you might still be able to take care of certain tasks like chopping up vegetables or measuring out dry ingredients and storing them in individual containers.
Getting these things out of the way early will give you more time to focus on other areas. Just remember, some foods, like the veg in salads, might go off sooner than you want them to, so consider leaving these until the day of the party.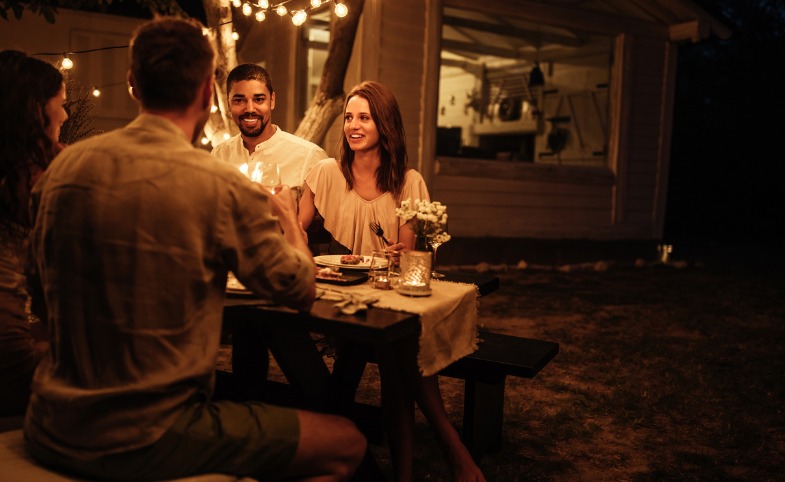 Let guests help themselves
Designating an area of your garden and stocking it up with things like glasses, ice, plates, a cocktail shaker and appetisers takes more of the pressure off you. Instead of having to continually fill people's glass or pass around snacks, people can help themselves instead and you can have fun too.
Prepare for bad weather
Unfortunately, The Great British Summer™ is never quite as dry and sunny as we always hope for. So, if you're planning an outdoor event, be sure to check the forecast in advance; you don't want some unexpected showers putting a dampener on your day.
A gazebo or marquee can shield you from the rain if the heavens open. Plus, they have the added benefit of providing guests with plenty of shade if it's warm and sunny instead.
And in case things get chilly when the sun goes in, some extra layers, blankets or even a heater will come in handy. Also, we'd recommend investing in some tablecloth weights to keep everything in place if there are strong winds on the big day.
Get your garden looking good
If you want to impress your guests, then consider adding some decorations to your garden. Of course, you may need to give it a tidy and a quick trim first, so clear away your kids' toys that are laying around and mow the lawn if it's looking a little overgrown.
For some simple options, things like tealights, garden bunting, and paper lanterns take no time to set up and help add a few extra accents to your surroundings – bringing warmth and life to what should be a great day for all your guests.
What to do on the day
Give the house a once over, vacuuming and dusting any rooms or areas your guests might pass through. Make sure the bathroom is tidy and well-stocked with clean hand towels and toilet paper for everyone too.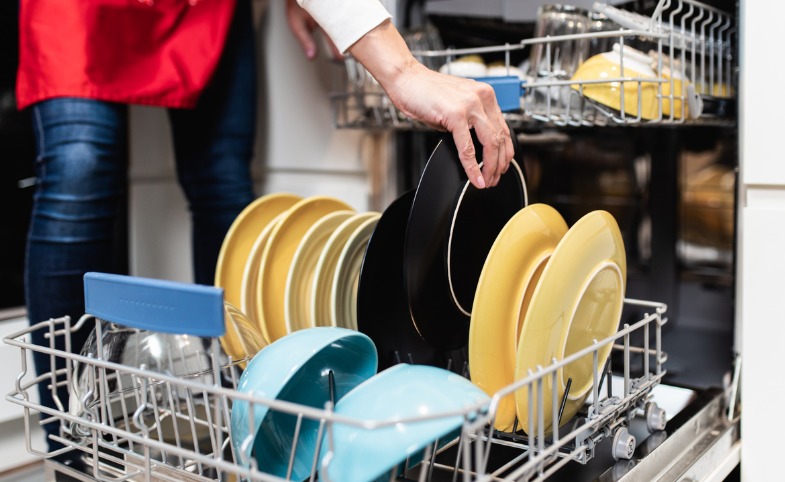 Get in the habit of cleaning up as you go. This way, there'll be less mess to clean up afterwards. Run the dishwasher ahead of time, so it's empty in time for the party – this also helps make the big clean a lot easier too. Empty all your bins and have liners ready for when things inevitably fill up.
And last but not least, remember to enjoy yourself. You've earned this! So, make sure you let your hair down, try not to worry about the little things, and make it a memorable party with your loved ones for all the right reasons.
At Oven Pride, we've made it our mission to take the stress out of cleaning the oven, so you can enjoy endless fun and creation in the kitchen. For more information and kitchen cleaning advice, visit the homepage today.