If you've made a New Year's resolution this year, there's a good chance you may be planning on going vegan. Whether it's for the whole year or just in January, a move to a plant-based diet can be a challenge, especially after over-indulging over the festive period.
Whatever your reasons are for going vegan, there's never been a better time to make the switch. Supermarkets, fast food chains and restaurants all over the country now cater to those who don't consume animal products, with huge vegan ranges that contain plant-based versions of all your old favourites.
To help you ease into your new diet this Veganuary, we've come up with a beginner's guide to veganism that's full of all sorts of helpful tips and advice. It's a big step, but one that brings plenty of positive changes – and delicious food – into your life, so we hope you find our guide helpful as you begin your journey into veganism.
What is veganism?
More than simply a diet, veganism is a lifestyle that abstains from the use of animal products. So, while vegans opt not to eat animal-derived foods such as meat (including fish), milk, dairy, eggs and honey, they also choose to forego any products tested on animals, and avoid wearing clothing made from wool, fur, leather, and other animal-derived materials.
Some vegans follow veganism for ethical reasons, doing so because it exploits animals as little as possible. Others follow it for environmental reasons, while some partake in veganism for its health benefits. There are also a number of people who follow the lifestyle for spiritual and religious reasons.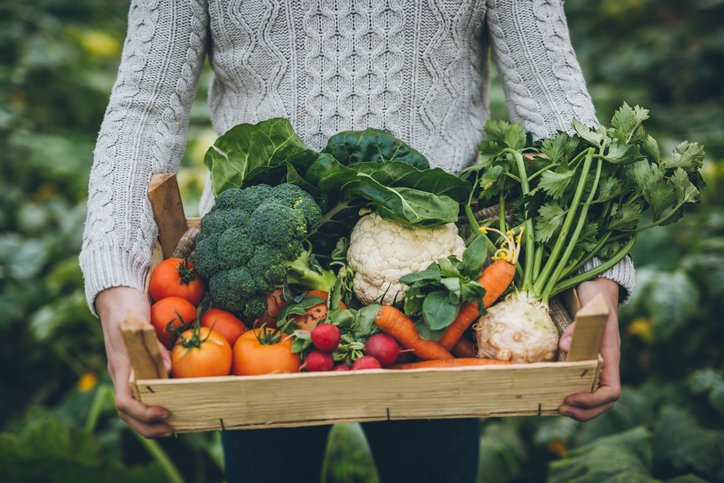 Transitioning to a vegan diet: Tips and advice
There may be a whole host of different reasons you're opting to go vegan. Whatever they are, completely altering your diet can be a challenge for many people. Keep these tips in mind when making the change…
Go at your own pace
Everyone's plant-based path is different. Some prefer to go cold turkey and make the change overnight, while others prefer to make gradual changes to their diet and lifestyle before committing to veganism.
What's most important here is that you pick a pace that's right for you. If going fully vegan isn't realistic, then try going for soy or almond milk with your breakfast. After that, try eliminating fish from your diet, and so on.
Keep meals simple – but diverse
It may be tempting to rush out and buy all the vegan cheese, mock meat and milk alternatives you can when deciding to go vegan. However, these replacement foods can be a bit on the pricey side, and we'd recommend starting with simpler fare when making the transition to a vegan diet instead.
Go for whole foods that are rich in vitamins, minerals and antioxidants such as vegetables, grains, legumes, starches, fruits, nuts and seeds, and base your meals around these ingredients. You can make all sorts of different stews, soups, chilli, and curries using nothing but natural, flavourful and healthy produce that won't cost the earth or end up putting a huge dent in your wallet either.
And if you've got a few favourite meals, then they can easily be veganised too! Have fun experimenting and get creative with new, plant-based versions of your favourite dishes.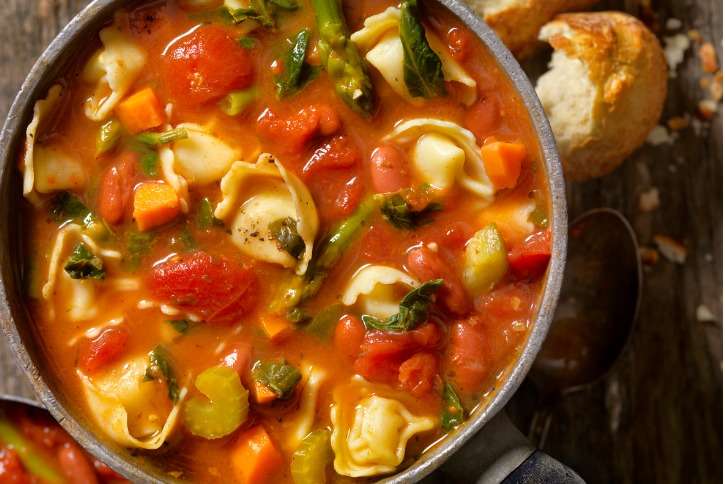 Get used to reading labels
As a novice vegan, you'll be doing your fair share of studying the labels of food packaging. While it's becoming more and more common to see suitable for vegans on certain labels, there are still plenty of products that don't feature any specific markings.
You may need to break out the magnifying glass and be on the watch for any foods that feature animal-derived ingredients. Even things like crisps, biscuits and beer might have a few sneaky things lurking in their list of ingredients, so look out for things such as whey, casein, lactose, shellac, rennet, gelatine, carmine, anchovies, lactic acid and beeswax.
Don't worry about slipping up
When you start out trying anything new, you're bound to make mistakes, and going vegan is no different. Whether it's intentional or not, you might slip up once in a while – so don't beat yourself up about it!
Nobody's perfect, and this is a big change you're undertaking. If you accidentally eat a bag of crisps that aren't actually vegan, or you give in to temptation and order a takeaway pizza on a Friday night, it's no big deal. Veganism doesn't mean perfection; as long as you're trying your best, that's all that matters!
Be part of the community
If you don't know anyone in your life who is also vegan, then it's a good idea to reach out and connect with the larger worldwide vegan community as you make the switch to veganism.
Get on Facebook or Twitter and join groups and accounts dedicated to all things vegan. These are spaces where people can share recipe ideas, tips and advice for those who've just gone vegan; you may even want to share your own journey with everyone else!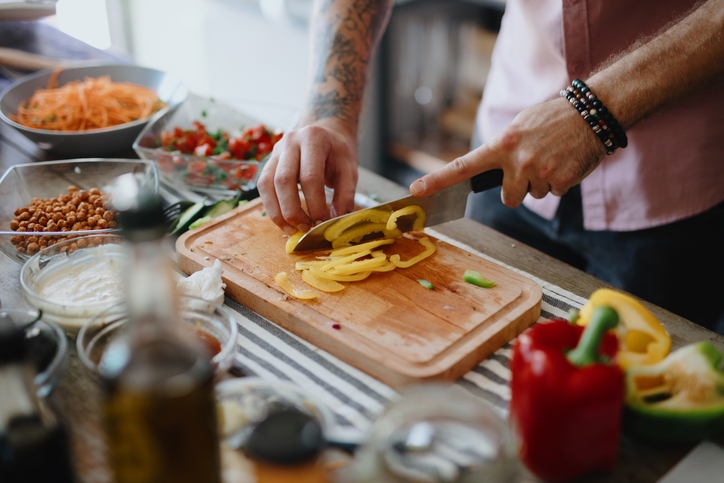 Creating a vegan meal plan
When going vegan, it's important to make sure you're getting the nutrients you previously would have before you started a plant-based diet. This vegan food plate, taken from Becoming Vegan: Comprehensive Edition (2014) by Brenda Davis and Vesanto Melina not only breaks down the kinds of food you should eat as a vegan, but it has some useful tips and advice on how to increase your vitamin intake too.
It's a great starting point for anyone looking to get to know the vegan diet from a health perspective. We'd also suggest trying the following pointers when it comes to a vegan meal plan…
1.) Have some strong foundational meals – but be sure to switch things up and try a new recipe once a week.
2.) Make sure you have something for all three meals of the day. This is where making big batches of meals you can eat throughout the week really comes in useful.
3.) Snacking is inevitable, so it's a good idea to plan some snack ideas so you don't fall into old habits. Celery or apple with peanut butter is a great go-to, but make sure you have plenty of fresh fruit and nuts on hand to graze on when you get peckish.
4.) Getting into the habit of meal prepping is a great way to stick to your meal plan and save you loads of time through the week. Chop your veg for tomorrow's soup or stir fry now, press your tofu overnight (it'll cook better this way), and make big batches for all of your meals throughout the week. You'll have something that's ready to go, so you aren't tempted to opt for the unhealthy or non-vegan option after a long day at work.
At Oven Pride, we've made it our mission to take the stress out of cleaning the oven, so you can enjoy endless fun and creation in the kitchen. For more information and kitchen cleaning advice, visit the homepage today.