Is there anything quite like fish and chips that defines British cuisine? Ask anyone to name the national dish, and it's more than likely going to be their response.
And really, it's no surprise: what isn't there to like about fish and chips? Crunchy batter, fluffy takeaway chips and succulent, flaky cod or haddock make for a meal that's second to none across the country. Don't forget about those all-important accompaniments and sides either: bright green mushy peas, the sharp tang of vinegar and tartare, and plenty of buttered bread all pair exceptionally well with fish and chips – it's little wonder it's among the nation's favourites.
And though there's no Friday night treat quite like a proper chippy, making your own fish and chips from home is well worth trying. While it does mean tinkering with the tried and true formula mentioned above, you may find a new combo of flavours that trumps the usual fishy favourite. Plus, with 4 September heralding National Fish and Chip Day, what better way to celebrate than by trying your hand at one of these great recipes.
The classic
This is it. The classic, no-nonsense fish and chip dish we know and love. Basically, it's Britain on a plate: a hardy and hearty favourite that will satisfy even the hungriest of stomachs. We like this recipe because it's about as no-frills as it gets, and really, what more do you want from a dish like this?
A robust, thick fish like cod, haddock or pollock is called for here, dipped in both sparkling water and dark beer, though you could easily leave the beer out if you prefer. All that bubbly carbonation adds up to a light, crispy batter that's an absolute must. When it comes to the chips, use a floury potato like Maris Piper or King Edward for the best results, deep frying them first, then the fish in the same pan, and then the chips again. Not only does that ensure both are ready at the same time, it gives the chips that classic crisp outer and wonderful, fluffy interior.
The gourmet go
You may think it's sacrilege to mess with the recipe for fish and chips, but if you fancy pushing the boat a little and making something truly special, then this recipe from Josh Niland, chef at Australian restaurant, Saint Peter, is worth trying.
This version uses pink ling, an eel-like fish that's part of the cod family, that's dense and low on sinew. Meanwhile, vodka is used in the batter. The decision to use the spirit here came from Josh's time working under Heston Blumenthal, and when you've spent time with a culinary alchemist like Heston, you know you've got some serious cooking credentials. The higher alcohol content of the batter means it burns away faster when cooking, resulting in a batter that's incredibly crispy as a result.
Served with a yoghurt-based take on a tartare sauce, this is the nation's favourite taken to an impressive new level.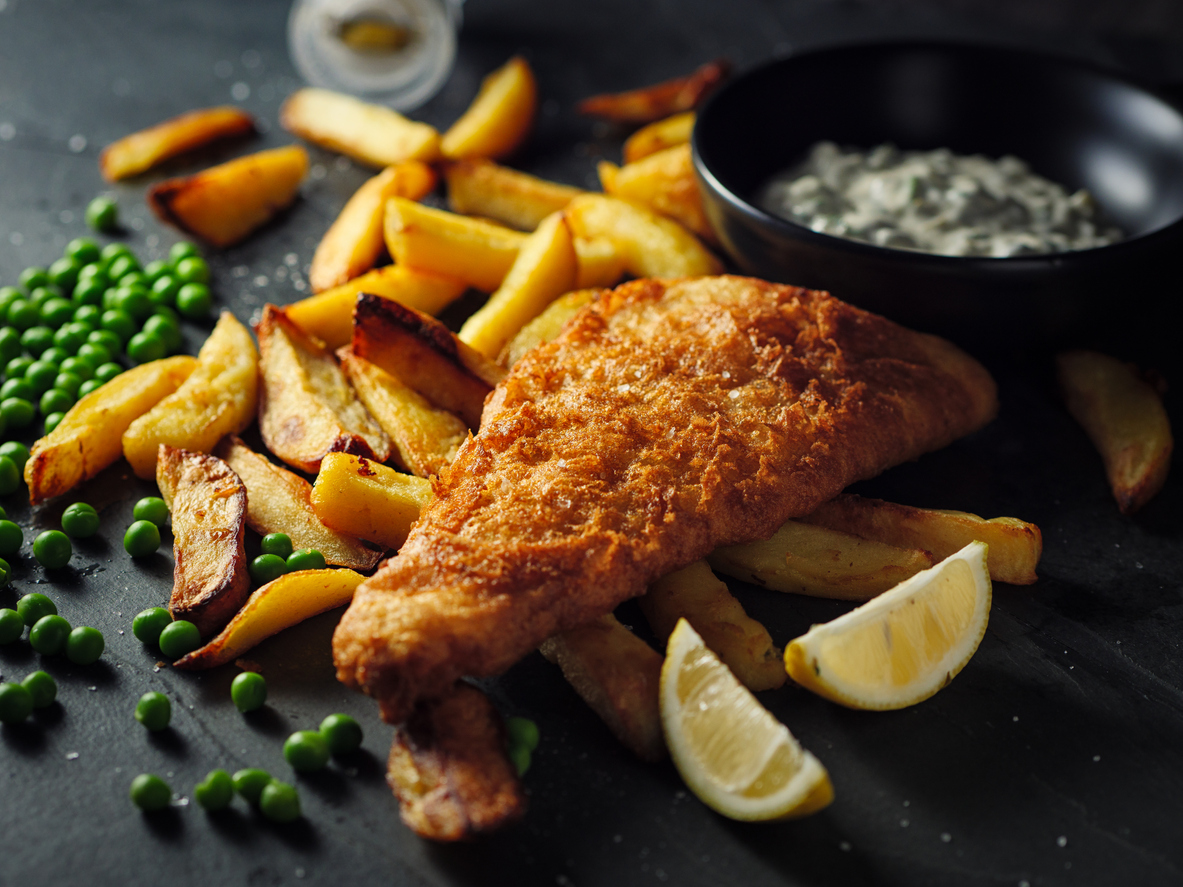 The vegan version
We know what you're thinking: how can fish be vegan? But like it or not, veganism continues to grow in popularity, and so it makes sense to cater to our non-fish-eating friends too!
Obviously, such a take on the dish isn't going to include fish. This version from The Avant Garde Vegan uses tofu in its place to mimic the meat texture of cod or haddock, but it's the inclusion of nori, an edible seaweed, that's going to give the fillets themselves that distinctive salty and fishy flavour.
The chips here aren't deep-fried, so it's a little healthier, and still just as tasty as the usual dish. Garnish with salt and a squeeze of lemon juice for an unmistakable chip shop finish that's sure to please your vegan pals!
The health-conscious take
OK, so fish and chips isn't going to win any prizes for being the healthiest dish out there. With all that oil and salt, it should come as no surprise. If you're keeping an eye on the calories, however, you can still enjoy fish and chips with a few tweaks.
This recipe, for instance, uses breadcrumbs instead of batter, which means there's no need to deep fry your fillets in a load of oil. Instead, both the fish and the chips are oven-baked on the same pan, delivering a similar crispiness that's a lot healthier than the usual version, as much as that pains us to say!
At Oven Pride, we've made it our mission to take the stress out of cleaning the oven, so you can enjoy endless fun and creation in the kitchen. For more information and kitchen cleaning advice, visit the homepage today