With many of us working from home for the past few months, as well as restaurants and eateries only just reopening, our culinary skills have surely been put to the test in these uncertain times. During this period, you've either discovered a new-found fondness for getting creative in the kitchen, or you've been throwing together random things from the fridge in hopes that they'll be marginally edible.
If it's the latter camp you fall into, then we're here to help! In what will have been a tough, busy time for many of us, taking care of ourselves should be our utmost priority – and food can play a big part in making us feel energised, satisfied and positive. You've probably been swept off your feet taking care of work duties and looking after loved ones, all while trying to maintain a degree of your pre-pandemic schedule too.
And what's more, getting in the habit of making meals throughout the week can add more structure to your routine, grounding us during this difficult period of time. A routine that includes what you'll eat and when helps to maintain a sense of normalcy, so it's good to find time to have an actual break at lunchtime, with a proper meal to refuel for the rest of the day.
That's why we've brought together a collection of tasty work-from-home lunch ideas that are not only healthy and nutritious, but are quick and easy to make.
Sandwiches and wraps
Forget the last resort supermarket sarnies you dash out to buy when you'd usually be in the office; take the time to make something special for when hunger strikes. And remember: when it comes to any leftovers you might have, quesadillas are your friend. Give these a go:
Soups and stews
It might not be soup weather right now, but for something speedy that helps you pack plenty of nutrition into your lunch, a few solid soup recipes should always be in your culinary repertoire. Plus, you can bulk-make it at the start of the week, taking care of your midday meals from Monday to Friday! Soup up your lunches with a bowlful of these rustic treats:
Omelettes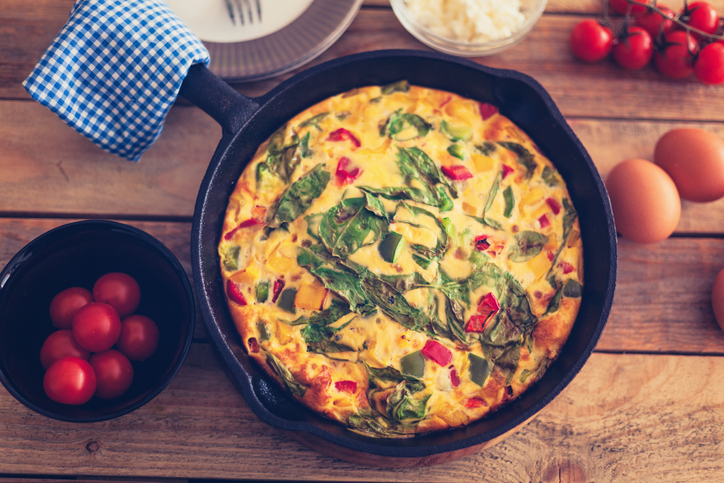 If you're in need of a quick fix that's healthy and filling, then you can do much worse than rustling up an omelette during your lunch hour. What's more, a basic omelette is both easy to make and super versatile, so you can throw in different herbs and spices to make your lunch special. Crack on and try this selection of tempting omelettes:
Salads
Another great way to stock up on some of your 5-a-day, a delicious, vibrant salad is sure to get you energised for the rest of the working day. Plus, it's often as simple as roasting your favourite veggies, deciding on a grain to use as your foundation, and picking a protein, all of which can last you the week if you make enough. Prepare a dressing that you can keep in a jam jar to take things to the next level. Who said salads had to be boring with these tasty, nutritious bowls:
Big batch meals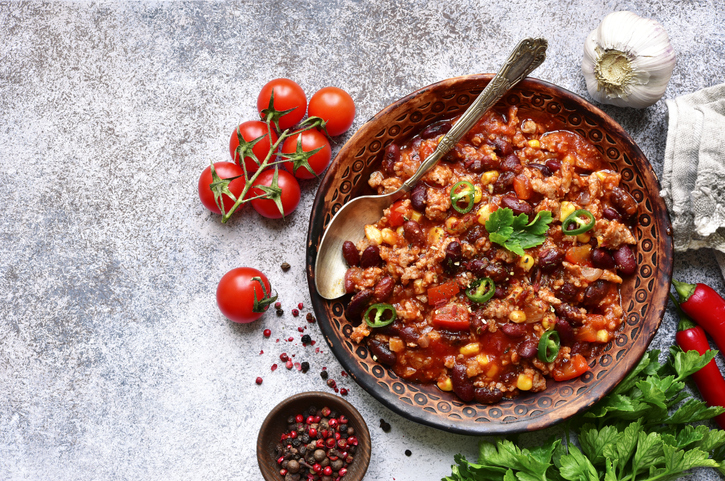 For something heftier, cooking in big batches on a Sunday evening can add plenty of hearty punch and flavour to your lunches. We're thinking things like chilli, curry and pasta that can all be made ahead of time and reheated when the time comes. Throw these dishes in the microwave and you'll have a tasty, robust meal to keep you powered up in the afternoon:
Time-saving meal prep tips
If you're looking to get into the habit of meal prepping, but you're put off by what seems like a time-intensive operation, then don't fret. All that's needed is a little organisation and some simple tips and tricks to help you in your preparation:
Stackable plastic containers are great for storing chopped veggies and full meals that are ready to reheat, plus they keep your fridge nice and tidy.
If you're cooking rice, make double or triple your usual amount, and store the leftovers in your freezer.
Make Sundays your dedicated batch-making days; break out the slow cooker if you're busier than usual. The rest of the week will thank you.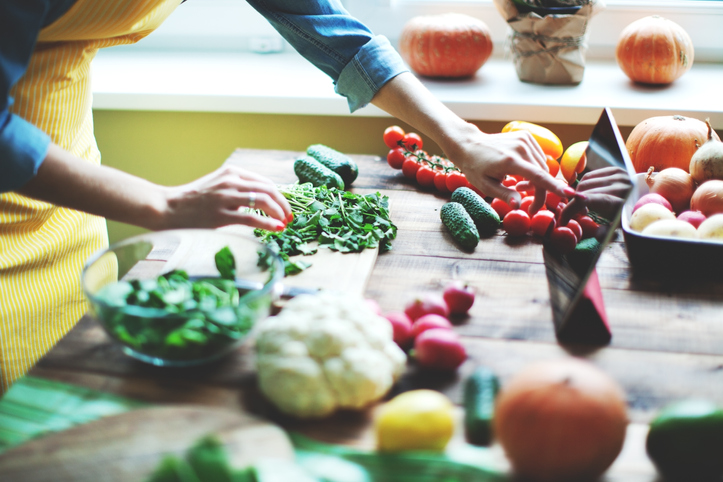 For smoothies, place fruit, oats and seeds in a zip-lock bag and store in the freezer. When you're ready to make one, add to a blender and pour in your milk of choice.
If you're feeling lazy, then combine leftovers with pre-made sets of ingredients and then improvise your lunches through the week. Mix the prepared veggies, proteins, and carbs to throw together delicious salads, tacos, and soups.
Remember: ready-made supermarket items such as canned beans, fresh eggs, pre-made grains, and pre-washed salad ingredients are always good to have in your cupboard or fridge. Once you know what flavours and ingredients work together, it'll make that mid-week lunch a breeze.
At Oven Pride, we've made it our mission to take the stress out of cleaning the oven, so you can enjoy endless fun and creation in the kitchen. For more information and kitchen cleaning advice, visit the homepage today